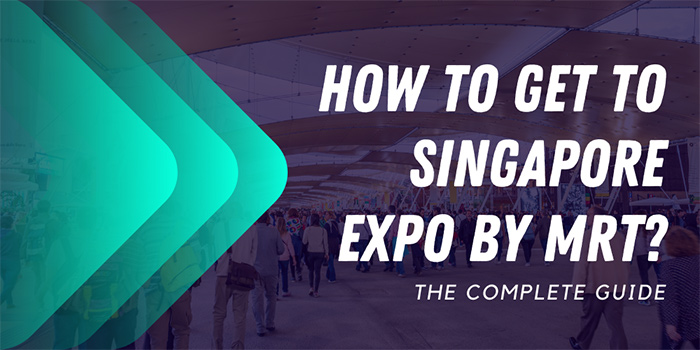 Get to Singapore Expo super fast and easily by following these steps!
Welcome to the complete guide on how to get to Singapore Expo by MRT. This article will clearly outline all of the specific steps required to make your way right to the Expo in a fast, cost-effective manner. 
Singapore Expo is a very busy venue for a wide range of events so this article will cater to many different people. For example, if you are visiting Singapore for a conference, you will need to efficiently get to and from Singapore Expo. There are also recreational facilities such as badminton courts that are stationed here that attract many local residents weekly. Singapore Expo is a common venue for both small-scale business events and massive industry events with thousands of attendees.
In addition to outlining how to get to Singapore Expo, we also hope that by the end of this guide you will be able to:
Select the appropriate kind of MRT ticket for your trip.

Create an itinerary of exciting points of interest and activities near Singapore Expo.

Make a clear decision on whether it's better to stay around the Singapore Expo or another area of the city. 
Fortunately, getting around Singapore is very easy using the MRT network. It has one of the best public transport systems in the world. Therefore, you can get to most city areas (including Singapore Expo) without even stepping foot in a car. 
---
Singapore Expo – Important Information
Singapore Expo is the city's largest convention and exhibition venue. It is located in Tampines Singapore and features over 100,000 m2 indoor space that is ideally designed for a broad range of events ranging from small business meetings to huge corporate and industrial exhibits.  
Ever since its official opening on March 4th, 1999, Singapore Expo has been welcoming guests from around the world. Although there have been renovations and upgrades here over the years, the original construction featured ten, 10,000 m2 multipurpose venue spaces. These spaces are column-free and extend up to heights of 16 metres, providing ample space for all kinds of events. Numerous smaller conference rooms can be rented for more intimate events. 
Organizing outdoor events is also possible at Singapore Expo. The outdoor carpark can accommodate up to 2,200 vehicles which can be converted into a large exhibition space if requested. 
Due to its strategic location close to Changi Airport, Singapore Expo is conveniently accessible after landing and accessible via MRT for visitors staying in Marina Bay and other popular areas of the city. 
---
Getting to Singapore Expo via MRT
Step 1: Find the closest MRT Station to begin your trip. 
Regardless of whether you are staying in downtown Singapore or elsewhere, try to find a room within walking distance of an MRT station. 
Convenient access to a station will make your trip to/from Singapore Expo a lot easier. Try to avoid getting in a vehicle altogether if possible. Being 500 m or less from a station is ideal to avoid lengthy walks in Singapore's heat, especially if you are dressed in business attire for your trip to Singapore Expo. 
Singapore is well stocked with quality hotels that are close to stations. Here is a brief list of properties that are popular business hotels near stations:
Marina Bay Sands (5-star, 9.0/10 review score, very close to Bayfront Station) 
The Fullerton Hotel (5-star, 9.0/10 review score, 2 minutes from Raffles Place Station)
Swissotel The Stamford (5-star, 9.0/10 review score, directly across from City Hall Station) 
With your accommodation taken care of, find the closest station and start your journey to Singapore Expo.
---
Step 2: Get a ticket to Expo Station.
There are multiple types of tickets for your MRT ride to Singapore Expo. But based on our experience, it comes down to how long you are in Singapore (are you a guest or resident) and how frequently you plan on using the MRT and bus networks (your itinerary plans).
Here are the three available choices to select from:
Single Trip Tickets/Multi-Trip Tickets

Stored Value Cards

Singapore Tourist Passes
Learn More: The BEST Guide to buying MRT Tickets in Singapore.
As you might have guessed, single trip and multiple trip tickets are the traditional types of tickets available. Simply buy the ticket when you enter the first station from a ticketing machine, and you will be good to go! Just remember to avoid peak periods because you might get unexpectedly delayed on the way to the Expo if the queues are long. 
We used a stored value card while figuring out how to get to Singapore Expo by MRT. These cards are popular amongst locals and long-term visitors to Singapore. Just buy one, top it up with a running balance, and you should be good to go!
Are you visiting Singapore only for a few days?
Consider buying a Singapore Tourist Pass if you are only in Singapore for a few days. 
The real benefit of a Tourist Pass is flexibility. You can use one for a set number of days (usually 1-3 days) and not worry about taking too many trips. You can use your pass to get to Singapore using MRT and then travel to other areas using buses and train services as needed for an unlimited amount of trips. 
Get all the Details: Singapore Tourist Pass -The Complete Guide.
---
Step 3: Plan on taking the East-West or Downtown Line to Expo Station. 
Expo Station is by far the best station for walking directly to Singapore Expo.
Therefore, if you plan your trip to Expo Station you should have no problem getting there (without the need to step in a car). 
Important Line Information
Expo Station is located on two of Singapore's MRT Lines:
East-West Line (Green Line on the Singapore Metro Map).
Downtown Line (Blue Line on the Metro Map) 
Since it is part of two lines, Expo Station currently has three neighbouring stations that you should familiarize yourself with:
Changi Station – providing airport access on the East-West Line.
Tanah Merah – west on the East-West Line
Upper Changi – north on the Downtown Line
You can expect the trip to Expo Station from these neighbouring stations only to take a few minutes. 
---
Step 4: Ride the MRT to Expo Station.  
Travel along the MRT and complete any transfers to the East-West Line or Downtown Line to reach Expo Station. If you are travelling from downtown Singapore be prepared to transfer at Tanah Merah to the Changi portion of the East-West Line. 
Once you stop at one of the aforementioned stations, grab your personal belongings and move closer to the nearest exit. Your next stop will be at Expo!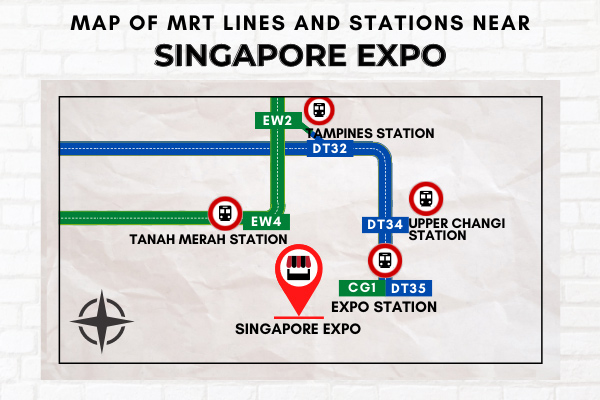 ---
Step 5: Alight at Expo Station. 
Alight once the train stops at Expo Station. Bring all of your stuff and double-check you haven't forgotten anything. 
---
Step 6: Exit the station and walk directly to Singapore Expo.
Walking directions from Expo Station to Singapore Expo
Similar to other stations throughout the city, Expo Station has multiple exits to choose from. There are a total of 7 exits at Expo Station: A, B, C, D, E, F, and G. 
Exits A, B, C, D, and E all provide access to the neighbouring streets whereas exits F and G are connected to the Basement level of adjacent buildings in the area. 
Take Exit A to walk from Expo Station to Singapore Expo. 
Follow the signs within the station. You will first come across Singapore Expo Halls 1 through 6 directly west and southwest of the station. 
To walk to Halls 7-9 it will take you a bit longer. Walk north and then you will come across a covered pathway which connects Expo Hall 6 to Expo Hall 7.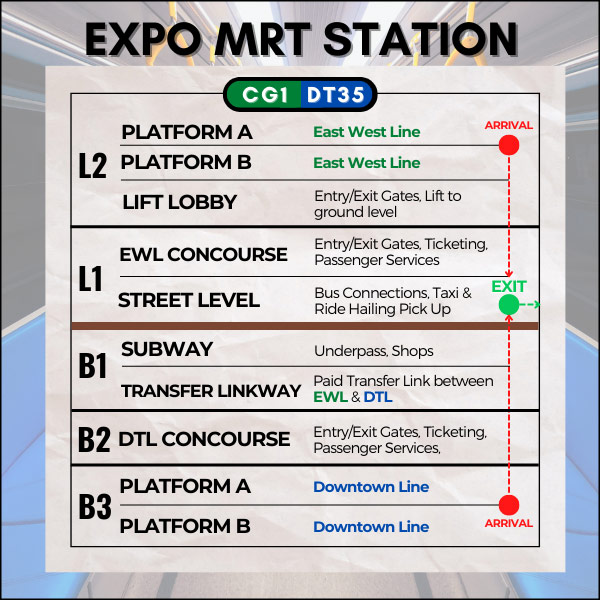 ---
How long should it take you to walk from the station to Singapore Expo?
Singapore Expo is directly beside Expo Station. Therefore, you can expect the walk to take only about 3 minutes to reach Expo Halls 4, 5, and 6. It will take you about 5 minutes to walk to Halls 1, 2, and 3 because they are a bit further south of the station 
Also, expect it to take you about 4-5 minutes to walk all the way north to Halls 1-9. Remember this is one of the biggest convention centres in the world, so getting from one hall to the next will take a bit of time.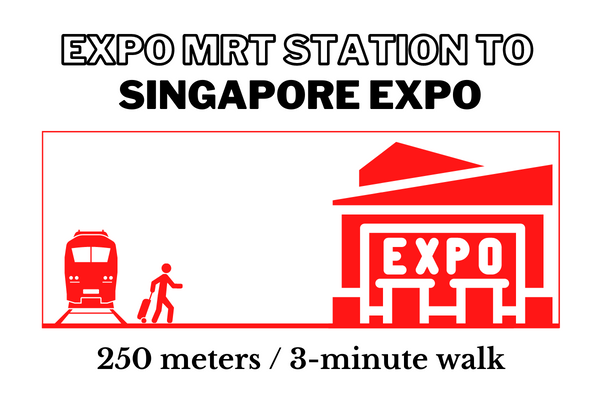 ---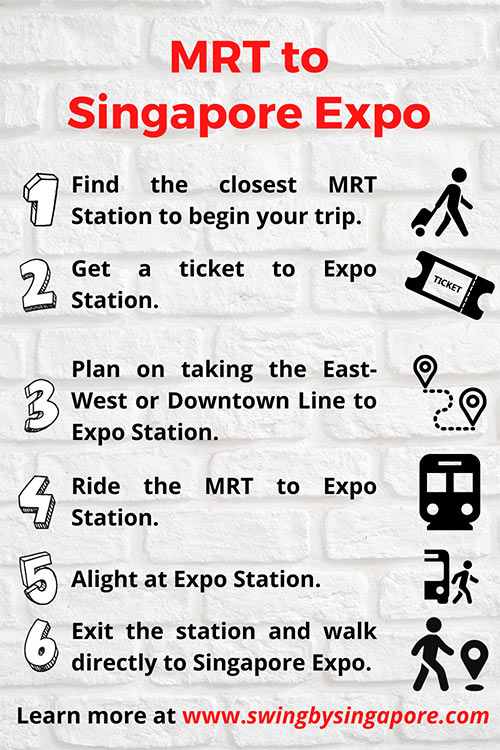 ---
Should you stay near Singapore Expo?
When you are selecting a room in Singapore, it really comes down to your itinerary in the city. For example, if you are visiting with the main purpose of visiting or working at an exhibit or event going on then you likely want to be as close as possible to Singapore Expo. 
But, if you are just making a single trip to Singapore Expo, then there will be less pressure to stay close. And in this case, you will likely wanted to stay closer to popular areas such as Marina Bay or Chinatown. 
Since Singapore Expo is close to Changi Airport, there are a few airport hotels and business hotels very close that receive solid review scores.
The two closest properties relative to Singapore Expo and Expo Station are:
Park Avenue Changi (4-star, 8.4/10 score based on 800+ reviews) 
Capri by Fraser Changi City (4-star, 8.6/10 score based on 1150+ reviews)
You will also have direct access to Changi Business Park by staying at either one of these properties. Changi Airport is only 1 MRT stop away. 
---
Conclusion – Getting to Singapore Expo
We hope that this guide on how to get to Singapore Expo by MRT has been useful! The area around the station is well equipped to accommodate tons of guests for world-class events with thousands of people. 
Although the direct area around Singapore Expo is mainly business buildings, there are some interesting points of interest in this corner of Singapore to explore. For example, Changi Jurassic Mile is a popular spot for children. It is a dinosaur-themed park with interesting exhibits scattered around biking and jogging trails. Kids love the place!
Check out East Coast Park if you want to enjoy a break from the business district around Singapore Expo. 
Also, there is a series of good golf courses a few minutes south of Singapore Expo:
Laguna National Golf Resort Club
Tanah Merah Country Club Tampines Course
Tanah Merah Country Club Garden Course
National Service Resort & Country Club
If you are in the mood for shopping head to Jewel Changi Airport or Tampines Mall.
Please don't hesitate to contact us if you have any questions about planning your trip to Singapore Expo, or anything else about Singapore. We would be delighted to assist you!