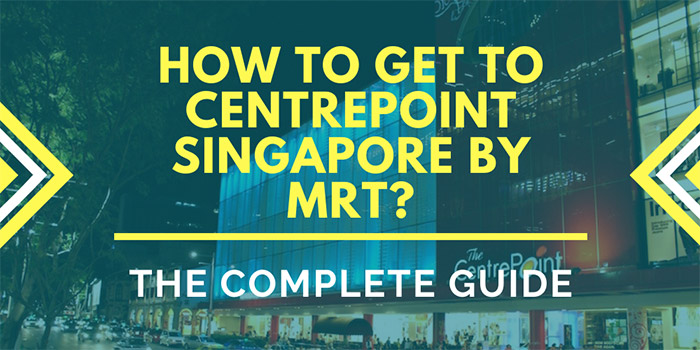 This is the complete step-by-step guide on how to get to Centrepoint Singapore by MRT. When you read this article you should learn exactly how to reach The Centrepoint which is a popular mall located along Orchard Road. We have stayed at hotels along Orchard Road and had the opportunity to visit this mall and other malls along Orchard so we are happy to share our experience. 
One thing that we have learned about Singapore is that using MRT is an extremely effective way to get around. You can literally get from Changi Airport right to your hotel in the city center without stepping foot in the vehicle. Then, if you purchase a Singapore Attraction Pass, you can visit multiple places using the MRT at discounted prices. Getting to The Centrepoint Singapore is no exception. By choosing to use the MRT to get to this mall you bypass traffic, avoid parking expenses and headaches, and save money by not using a taxi or private vehicle. 
---
Why should you visit The Centrepoint in Singapore
The Centrepoint is a popular food, shopping and social mall located right in the heart of Orchard Road – Singapore's most famous shopping district. It is ideally located right on Orchard directly beside other malls and within walking distance to many hotels. 
Although most malls along Orchard are famous only for shopping, The Centrepoint is quite popular for its dining options. According to its official website, the CentrePoint "is a food haven". It has three different dining areas that offer a wide selection of restaurants and cafes. Choose from Gastro+, Food Hall and Food Street. 
The mall spans six levels and features many internationally branded stores. 
Furthermore, The Centrepoint has playgrounds for children and a range of wellness services such as health screening, specialist dentistry, physiotherapy and aesthetic practices. Therefore, the mall is well balanced in terms of shopping, dining and wellness services. 
The Centrepoint is also very close to popular hotels along Orchard Road. For example, Hilton Singapore Orchard (5-star, 8.9/10 review score) is only 1 minute away. You can walk there in no time! 
---
Getting to Centrepoint Singapore using the MRT
Step 1: Find a place to stay near an MRT Station.
Getting to Centrepoint in Singapore is much easier if you stay close to an MRT station.  If you are planning on visiting the city take the time to find a conveniently located hotel.
Booking a room near an MRT station will save you serious time and money. Parking, traffic, taxis are things that you will completely avoid by doing so. Also, don't forget about Singapore's extreme heat. You don't want to be walking too much under the afternoon sun. 
The two hotels listed below are quite popular with visitors to the city. They are located in picturesque Marina Bay and they are only a minute or two from their respective station.
Marina Bay Sands (5-star) (Bayfront Station)
Fairmont Singapore (5-star)(Esplanade Station)
Take note that we are not a direct partner of these properties, but just sharing some accommodation ideas with you. If you find another property near a station, go for it!
---
Step 2: Think about your travel itinerary and then buy an MRT ticket. 
Once your accommodation is shorted you have to start thinking about what kind of ticket you will use to get to The Centrepoint in Singapore.  Really, what it comes down to is your budget and itinerary while you are in the city.  For example, if you are only spending one or two days in Singapore and plan on seeing a lot of different things, you might be better off getting a Singapore Tourist Pass.
You can refer to our comprehensive guide on how to buy Singapore Tourist Passes to find out what the pros and cons are. If you also buy an attraction pass, then you will save money on transport and admission to several major attractions. 
If you only plan on using the MRT once or twice while you are in the city then you might want to just stick with single journey tickets.  You can purchase these directly at ticketing kiosks within each station.
We were just figuring out how to get to Centrepoint Singapore by MRT we used an EZlink card. This is a form of stored-value card that you simply top up with cash and reuse. These are popular with residents of Singapore and tourists staying for a while. They are ideal if you are in the city for more than a few days and you want to check out a lot of places. 
You can refer to our very popular guide on how to buy MRT tickets in Singapore for additional details about each type of ticket/pass. 
---
Step 3: Plan on going to Somerset Station to reach Centrepoint Singapore.
The most convenient station to access The Centerpoint is Somerset Station. This is one of many stations that service trains to Orchard Road.
Somerset Station is located on the North-South Line. This is represented in red colour on Singapore's official train map. 
You should find train maps in each of Singapore's MRT stations. These can help you identify where you need to transfer to get to the North-South Line and Somerset. 
---
Step 4: Take the MRT to Somerset Station.
Next, simply take the MRT to Somerset Station.  If you are using a stored-value card or a Singapore Tourist Pass all you need to do is just 'tap' to enter the system. 
While on your way to CentrePoint, there are a few things to help you. First of all, you should expect to hear verbal announcements being made on the train. These are designed to inform you of upcoming stations so that you do not miss your stop. Secondly, refer to the signs above the exit doors to see where you are. 
The adjacent stations to Somerset are Orchard (to the north) and Dhoby Ghaut (to the south). When you hear either one of these being announced, get closer to an exit because you will be getting off at the next stop.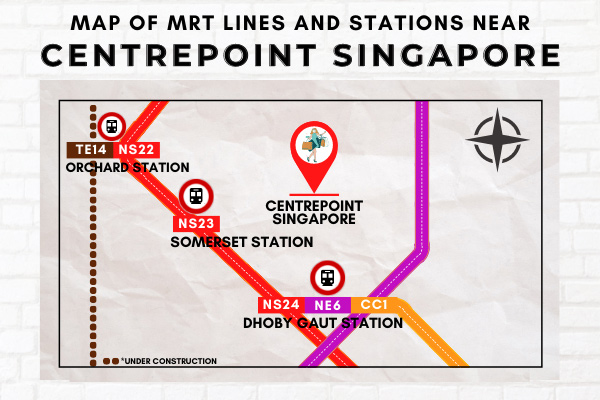 ---
Step 5: Get off at Somerset and walk to The Centrepoint.
Get off the train at Somerset Station and bring all of your belongings. Follow the signs once you're off the train. Now, it's time to find the correct exit to walk to The Centrepoint.
Take Exit D from Somerset Station to reach Centrepoint.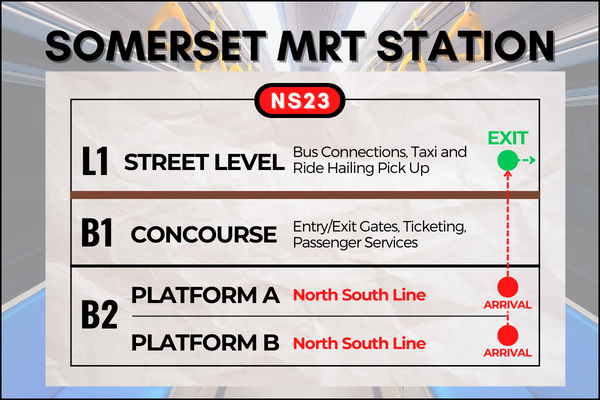 Walk along the Orchard Central Level B2 underpass to reach the mall. It should take you about 3-4 minutes to walk the 300 meters from Somerset Station to The Centrepoint. 
The Centrepoint is located across Orchard Road in the northeastern direction relative to the station. You can't miss it!
Note: You can also take Exit B from the station as well!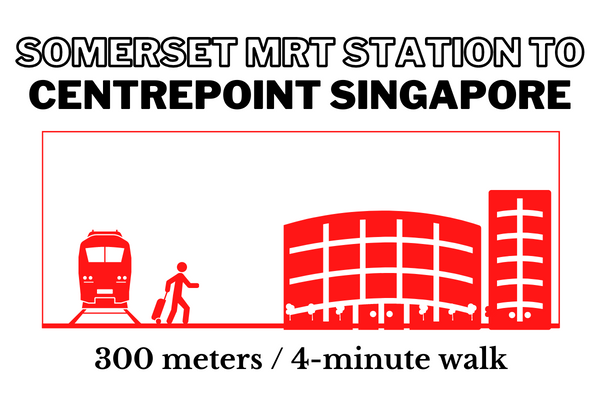 ---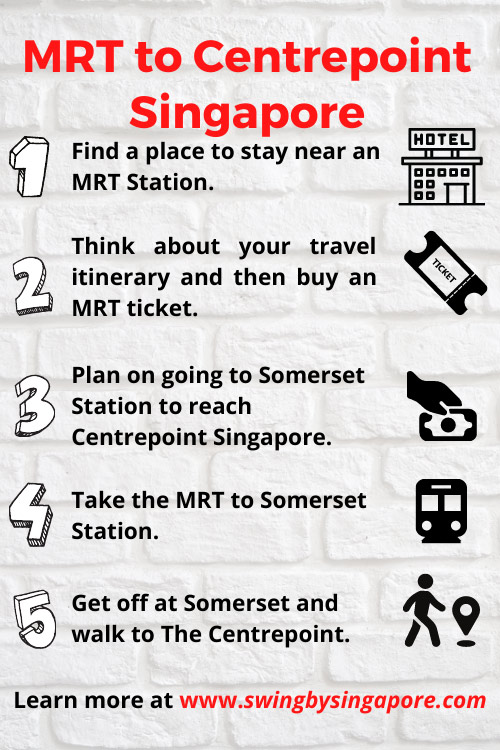 ---
Is it a smart idea to stay near The Centrepoint while you are in Singapore?
One of the first questions that visitors to Singapore tend to have is 'where they should stay in the city'?  Ultimately, this really comes down to your own personal preferences in terms of budget and how much you are willing to pay for convenience.  
Everybody knows that Singapore is regarded as a fairly expensive place to visit. Therefore, when you are trying to figure out whether you should stay near Centrepoint,  think about your nightly budget and whether you want to pay a bit more to be close to malls, hotels and the MRT. 
The area around The Centrepoint is convenient. With so many malls in the area, there are also lots of dining options as well.  Also, don't forget that you can easily walk Somerset station in 3 minutes from the mall.
The most 'positively' reviewed hotel along Orchard road is Four Seasons Hotel Singapore (5-star, 9.2/10 review score). But this is closer to Orchard Station than Somerset.
We have checked the area around Centrepoint and consider the three properties below to be some of the most convenient and best choices available:
Pan Pacific Serviced Suites Orchard (5-star, 8.9/10 review score)
JEN Singapore Orchardgateway by Shangri-La (4-star, 9/10 review score)
We are not a direct partner of any of these properties. Our suggestions are based at the time of writing and the review scores are taken from leading accommodation websites. These three properties listed above are all within 5 minutes or less of The Centrepoint. The Pan Pacific is the closest to Somerset Station in case you are wondering.
---
More questions about getting to Centrepoint Singapore?
This step-by-step guide on how to get to Centrepoint Singapore by MRT has been written to make this trip easier. Ideally, it will save you time and money by getting the right type of ticket and navigating the MRT lines efficiently. If, for some reason, you require more information please send us an email and we would be happy to help!
While you are visiting this area of Singapore keep in mind that there are tons of shopping malls available. 
Orchard is a shoppers dream. 
The Centrepoint is one of many here. Therefore, get creative and draft up a shopping list and itinerary. Expect malls that cater to both affluent and budget-minded shoppers. A smart idea is taking the MRT to Orchard Station and then walking along Orchard Road to other malls. Then, after shopping and eating out, you can take either Somerset or Dhoby Ghaut Station to another area of Singapore. 
A lot of tourists tend to stay further south around Marina Bay or in popular areas such as Chinatown or Clarke Quay.  There is no problem accessing Orchard from these areas using the MRT. Actually it might only take you 10 minutes if you know which stations to use and how to get to the North-South Line.