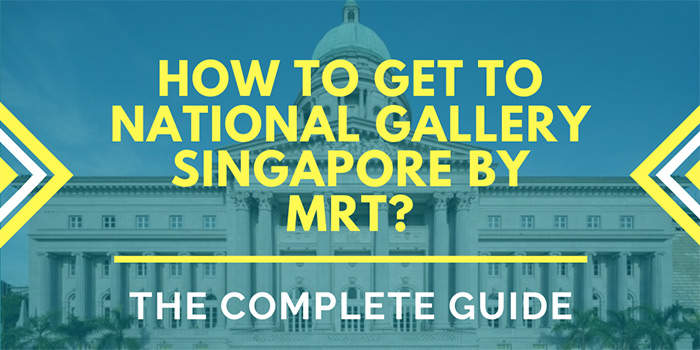 This is the complete guide on how to get to National Gallery Singapore by MRT. We have written this article so that you can get to the National Gallery fast and easy. Ideally, by following these steps you will be able to bypass traffic jams in Singapore, avoid parking expenses and help save the environment.  
It is hard to find a more well-connected city than Singapore. The MRT network has multiple lines that can bring you to almost all major attractions throughout the city. This means from the second that you land at Changi Airport there is no need to get a taxi or private vehicle. Simply take the MRT to the nearest station to your hotel and you will be able to reach places like the National Gallery Singapore without any headaches.
---
Why should you visit National Gallery Singapore?
National Gallery Singapore is the leading visual arts gallery that has the world's most comprehensive public collection of Southeast Asian and Singapore modern art. This gallery spans a large 64,000 square meters and is located within two of Singapore's restored national monuments: supreme court and city hall. 
Over the years, the National Gallery Singapore has won countless awards. For example, it won TripAdvisor's Certificate of Excellence 2019 and Children's Museum Award in 2018.  
According to its official website, National Gallery Singapore also collaborates with other international museums. For instance, it undergoes efforts to research and design exhibitions along with other internationally recognized museums such as the National Museum of Modern Art and Tokyo (MOMAT) and National Museum of Modern and Contemporary Art, Korea (MMCA).
Also, take note that National Gallery Singapore is ideally located beside the Padang in Singapore – minutes from Marina Bay and some of the top hotels in the city such as The Fullerton Hotel Singapore (5-star, 9.2/10 review score). It is well connected with Singapore's MRT and we will outline how to get there directly below.
---
Getting to National Gallery Singapore using the MRT
Step 1: Book a room beside a station. 
If you want to save time and money getting to National Gallery Singapore then you should stay beside an MRT Station if possible.  Obviously, if you are a resident of Singapore, you can skip down to step #2 below.
Staying near an MRT station in Singapore sets the stage for an efficient and affordable visit to the city. You won't have to worry about taxi fees, parking or spending time in traffic jams. 
Fortunately, there are a lot of accommodation options that are very close to stations throughout the city.  Since the National Gallery is ideally located beside Marina Bay you can stay at either one of the hotels below and be super close to stations:
Marina Bay Sands (5-star) (Bayfront Station)
Fairmont Singapore (5-star)(Esplanade Station)
Then, when you want to go to any of the attractions throughout the city you can simply walk to the station and avoid getting in a vehicle. You can also get straight to these hotels from the airport using the MRT.
---
Step 2: Plan your MRT trip and get an MRT ticket/pass.
When you are ready to go to the National Gallery Singapore think about your itinerary and how much you plan on using public transport. The type of ticket that you purchase will really depend on your own travel plans and personal preferences.
You can refer to our very popular guide on how to buy MRT tickets in Singapore for additional details about each type of ticket/pass. But in general, single trip tickets are the best option if you are only riding the MRT once or twice. 
If you are doing a lot of sightseeing over a 1-3 day period, then try to get a Singapore Tourist Pass. These can be used on buses and trains throughout the city. Refer to our comprehensive guide on how to buy Singapore Tourist Passes to find out what the pros and cons are. 
When we were just discovering how to get to National Gallery Singapore by MRT we tried an EZlink card. This is a type of stored-value card. All you need to do after buying the card is to top it up with cash. Then, use it on buses and train rides. These are popular with residents of Singapore and tourists staying for a while. They are ideal if you are in the city for more than a few days and you want to check out a lot of places. 
---
Step 3: Plan on going to City Hall Station to reach National Gallery Singapore.
The most convenient station to access National Gallery Singapore is City Hall Station. 
City Hall Station is quite popular with commuters because it is a transit station where  you can transfer between two following lines:
North-South Line (shown in red on the train map)
East-West Line (shown in green on the train map)
Consequently, you can easily get to the National Gallery of Singapore by either taking the North-South line or the East-West line to City Hall Station.
Try to check out the train maps located in Singapore's MRT stations. These can help you identify where you need to transfer on the way to City Hall Station.
---
Step 4: Ride the MRT to City Hall Station.
Next, ride the MRT to City Hall Station.  If you are using a stored-value card or a Singapore Tourist Pass all you need to do is just 'tap' to enter the system. 
While you are on the train heading to National Gallery Singapore, look at the exits above the signs on the train. Also, expect to hear verbal announcements being made. Both of these are in place to inform you of what the next station is.  A lot of tourists will stop at Raffles Place Station right before City Hall. In this, case when you hear 'Raffles Place' being announced, head to the nearest exit and get ready to get off at the next stop.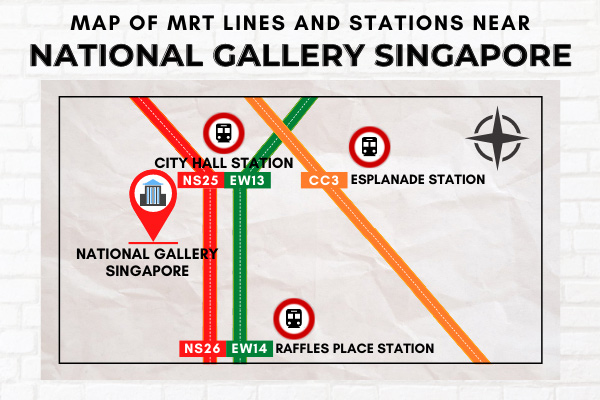 ---
Step 5: Alight at City Hall and walk to National Gallery Singapore.
Get off the train at City Hall station without forgetting any of your belongings. Follow the signs once you're off the train. Then, begin looking for the correct exit. 
Take Exit B from City Hall Station to reach National Gallery Singapore.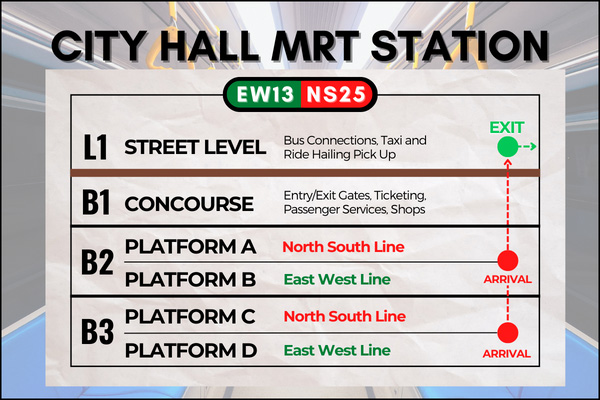 The walk from City Hall Station to the National Gallery of Singapore should only take you about 5 minutes because the distance is only 400 meters. The Gallery is southwest of the station.
You should be there in no time!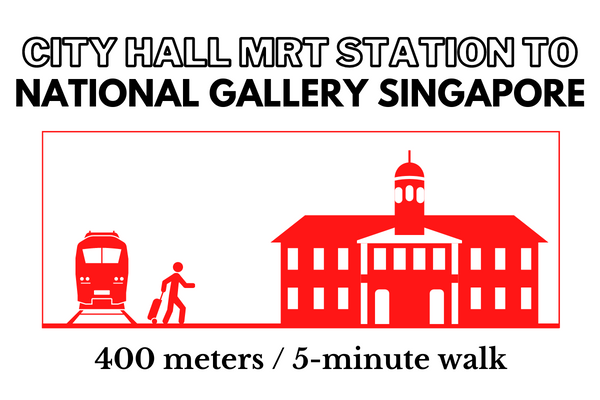 ---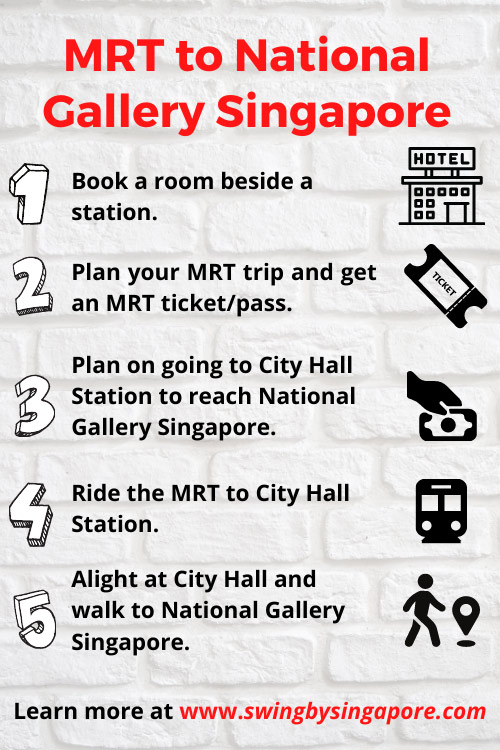 ---
Is it a smart idea to stay near National Gallery Singapore while you are in the city?
Staying near the National Gallery Singapore is a very smart idea while you are in the city. This is particularly true if you have the budget and you can afford this area. Fortunately, the National Gallery is only a few minutes away from the world-famous Marina Bay. Also, west of the Gallery is Boat Quay – another beautiful place worth exploring. 
It is very easy to take beautiful walks from the National Gallery Singapore around Marina Bay. This is where you can capture skyline views of the city and explore sights such as the Merlion and Singapore Flyer. 
Hotels in this area do tend to be quite pricey, however. Therefore, you have to really make a decision about whether you want to pay for the convenience and direct access to one of the nicest areas in all of Singapore.
Recommendations???
Since we have spent a lot of time sightseeing in this area of Singapore we are quite familiar with the accommodation choices near the National Gallery. We have listed the four most convenient places to stay below for you:
The Fullerton Hotel Singapore (5-star, 9.2/10 review score)
The Capitol Kempinski Hotel Singapore (5-star, 9.3/10 review score)
Swissotel the Stamford (5-star, 9/10 review score)
Fairmont Singapore (5-star, 8.9/10 review score)
Please take note that the review scores stated above are based at the time of writing from leading accommodation websites.  Therefore, they are subject to change over time as more guests review them. Notice that all of them are very highly rated. This suggests that they are well-managed, clean and offer a broad range of services. We are not a direct partner of any of these properties, but we do acknowledge that they are some of the best choices in the city.
You can walk from any of these properties to the National Gallery Singapore in 7 minutes or less.
---
More questions about getting to National Gallery Singapore?
This step-by-step guide on how to get to National Gallery Singapore by MRT has been written to make this fast and easy.  Hopefully, you will also save money by following the steps to ensure that you avoid unnecessary taxi fees and parking expenses.
It is important to note that City Hall station is not the only station that you can use to access the National Gallery Singapore. 
You can also use Raffles Place station or Esplanade Station. The walk from each of these stations is about two or three minutes longer than using City Hall Station. Consequently, if you don't want to stay on the MRT longer you can just simply walk from one of these stations to the Gallery instead of using City Hall.
If you are planning a visit to the National Gallery Singapore then you can easily put together an action-packed itinerary for the day. Simply walking around Marina Bay will enable you to visit sites such as the Merlion, Singapore Flyer and Gardens by the Bay. 
Also, consider going up to the top of Marina Bay Sands Hotel.  This is where you will find the Sands Skypark.  This has become world-famous because of the amazing panoramic view you can capture of Singapore's breathtaking skyline.  We strongly recommend checking out some of these points of interest. Ideally, during the same day that you are visiting the National Gallery.  
This will make your trip to Singapore more efficient and cost-effective.