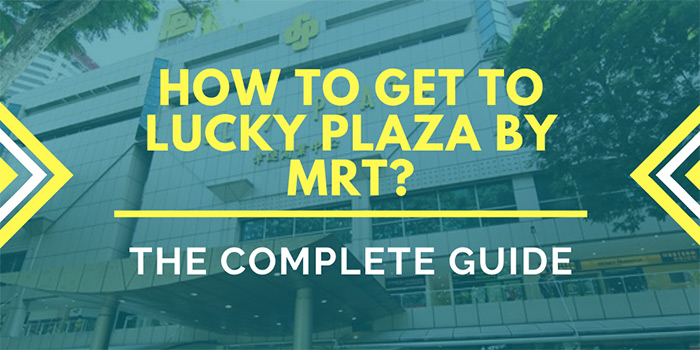 Welcome to the complete guide on how to get to Lucky Plaza by MRT.  Regardless of whether you are a permanent resident of Singapore or a visitor, we have written this article to make this trip fast and easy. 
Lucky Plaza is a popular shopping mall that is situated right in the heart of Orchard Road. This is Singapore's premier shopping district that features tons of awesome hotels, malls and restaurants to check out. We have visited this area in Singapore on multiple occasions and we plan on outlining the specific steps to get to Lucky Plaza. Keep in mind that using the MRT while you are in Singapore is a very wise decision. You can access the city's best attractions conveniently, and save significant amounts of money along the way!
When you use the MRT in Singapore you can bypass traffic jams and eliminate the need to deal with parking headaches.  Also, keep in mind that you can land at Changi Airport and then take the MRT directly into the city.  It is quite possible to visit points of interest such as lucky Plaza and other attractions in the city without stepping foot in a vehicle. The MRT in Singapore is cheap, efficient and environmentally friendly in comparison to vehicles. 
---
Why should you visit Lucky Plaza in Singapore?
Lucky Plaza is a very popular shopping mall that originally opened in 1981. It is located right in the middle of Orchard's extensive selection of shopping malls. The mall consists of multiple stores and a popular basement food court that is known to be well priced. Choices here include fast food brands and also local eateries. 
If you plan on visiting Plaza Lucky this is one of the best places along Orchard Road to buy affordable products.  It has a wide selection of shops selling electronics, clothing, shoes, accessories and sporting goods. You can expect to find heavily discounted products, so bargain hunters tend to shop at Plaza Lucky. Also, the fourth floor of the malls is quite famous for well-priced salons and barbershops. Consequently, many locals and tourists go to Lucky Plaza for affordable haircuts and treatments.  
Plaza lucky is also quite popular because of its convenient location. It is within walking distance to two MRT stations and is close to popular hotels such as Singapore Marriot Tang Plaza Hotel (5-star, 8.5/10 review score).
---
Getting to Lucky Plaza using the MRT
Step 1: Book a room close to an MRT station.
The first step in getting to Lucky Plaza efficiently is making sure that you are staying at a well-positioned hotel.  Obviously, if you already own a property in Singapore this step will not apply to you. 
Staying at a hotel near the MRT in Singapore is a very strategic decision. It is also one that will save you some serious money if you plan on doing a lot of sightseeing. We recommend that you stay at a property that is only one or two minutes away from a station. This will allow you to access the MRT very fast and also avoid the need to get taxis to and from the station. 
And also don't forget about parking and traffic. 
The last thing that you want to deal with when you are sightseeing in Singapore is spending an hour in a traffic jam or an hour looking for a parking spot at Plaza Lucky.
Fortunately, there are many hotels to choose from that are near MRT stations.  Two popular ones that are very close to stations are listed below for your convenience. However, we recommend that you check out a bunch of different options before booking.
Marina Bay Sands (5-star) (Bayfront Station)
Fairmont Singapore (5-star)(Esplanade Station)
Take note that we are not a direct partner of these properties, but they do receive very high review scores from guests. 
---
Step 2: Buy an MRT ticket.
Once your accommodation is sorted and you know what station you are going to walk to, it's time to buy an MRT ticket to get to Lucky Plaza. Currently, at the time of writing, there are two main types of tickets that you can purchase.  The guides that we have written below will provide you with specific details about each one. 
1) How to buy MRT tickets in Singapore?
2) How to buy Singapore Tourist Passes?
When we first figured out how to get to Plaza Lucky by MRT we used an EZlink Card. This is a form of stored-value card that you simply top up with cash and reuse. These are popular with residents of Singapore and tourists staying for a while. 
The second main option is buying a Singapore Tourist Pass. 
These are ideal if you plan on visiting a lot of different areas and attractions over a three-day period.  Once you buy one of these you are entitled to unlimited bus and MRT rides throughout the city.
We highly recommend buying a Multiple Attraction Pass to use alongside the Tourist Pass. Attractions in Singapore are expensive. These passes offer you up to 52% off entrance fees to the city's top attractions. At this point in time, over 200,000 tickets have been sold due to the large savings.
---
Step 3: Plan on going to Orchard Station to reach Lucky Plaza.
Although there are a few different stations that you technically could go to in order to reach Lucky Plaza, the best one is Orchard Station.  This is a very popular station that is located right in the middle of the shopping district of Orchard.
Orchard Station is located on the North-South Line of the MRT system. This is represented in red colour on Singapore's official train map. 
When you are planning your trip to Lucky Plaza we suggest that you check out the train maps that are located in each station. Knowing where and when to transfer can make your trip much faster. 
---
Step 4: Ride the MRT to Orchard Station.
Taking the MRT to Orchard Station is pretty straightforward.  If you are holding a card just simply tap it to enter your first station. Get on the train and then listen for verbal announcements that are designed to inform you of upcoming stations.
If you are like most travellers, you probably will be going to Lucky Plaza by MRT from the south where popular areas such as Marina Bay are located. In this case, the preceding station to Orchard will be Somerset.  When you hear "Somerset" being announced on the train make sure that you move closer to an exit. You will be getting off at the next stop which will be Orchard.
Also, refer to the signs above the exit doors. They can inform you of where you are on a line.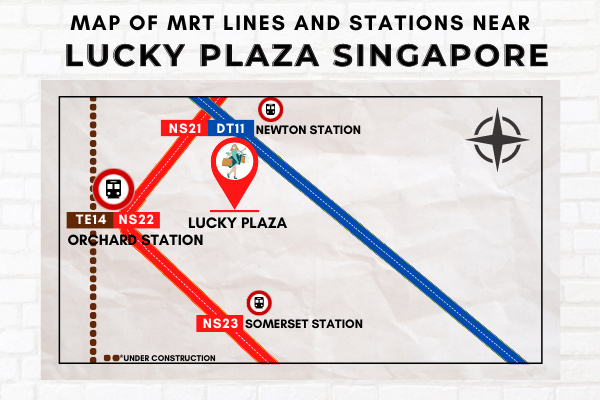 ---
Step 5: Get off at Orchard Station and then walk to Lucky Plaza. 
Grab your belongings from the train when you arrive at Orchard. Then, follow the signs out of the arrival area.
Take Exit A from Orchard Station to reach Lucky Plaza. Walk along the underpass below Orchard Road to get to the Mall.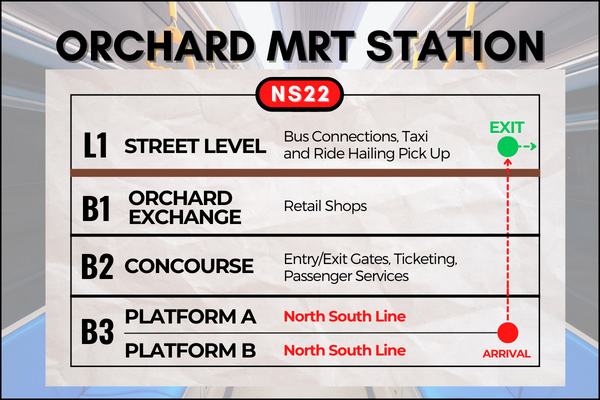 Expect the walk from Orchard Station to Lucky Plaza to only take you 2-3 minutes since the mall is just across the road from the station.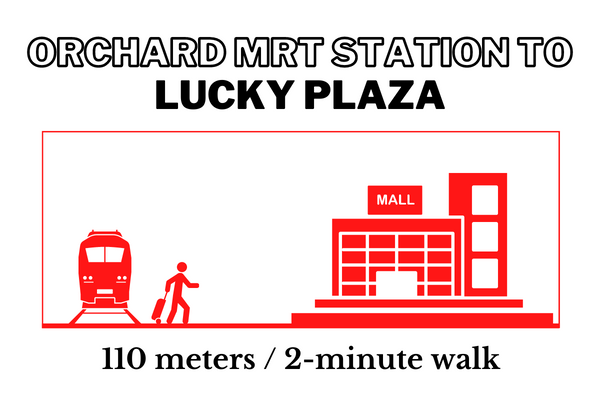 ---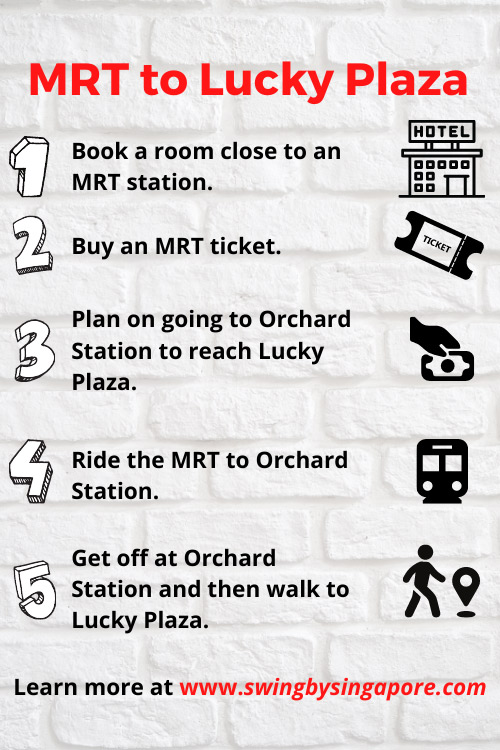 ---
Is it a wise decision to stay near Lucky Plaza while you are in Singapore?
It is a wise decision to stay in your Lucky Plaza while you are in Singapore.  This is a very convenient area to stay if you are interested in shopping and eating out. Keep in mind that Orchard has tons of malls that also have tons of restaurants. Therefore, within each mall, you can find a surplus of different cafes, food courts, and restaurants that offer all kinds of food options. 
There are also three main MRT stations that service the orchard area: Orchard, Somerset and Dhoby Ghaut. Consequently, if you book a room around Lucky Plaza you can easily walk to one of these MRT stations without spending additional money. It also helps to avoid parking a vehicle if you have one.
The most 'positively' reviewed hotel along Orchard road is Four Season Hotel Singapore (5-star, 9.2/10 review score). But there are many options that score well above 8/10 on leading accommodation websites. 
One of the most convenient places to stay near Lucky Plaza is Singapore Marriott Tang Plaza Hotel. It is just a few hundred meters west of Lucky Plaza on the other side of Tangs.  
Keep in mind, however, that the convenience of Orchard Road also comes at a cost. Hotels in this area tend to be fairly pricey for the average traveller. Therefore, if you are looking for cheaper options, try out Chinatown, Little India and Geylang. 
---
More questions about getting to Lucky Plaza Singapore?
We hope that this step-by-step guide on how to get to Lucky Plaza by MRT has given you all the information you need to reach this popular mall. If you do require more information kindly send us an email and we would be happy to help you.
Since this area of Orchard is serviced by three different MRT stations there are a lot of different shopping itineraries that you can put together. You could take the MRT to Dhoby Ghaut Station and then walk along Orchard Road. Drop into a few malls and eat a few meals. Then, exit the area from Orchard Station. The shopping possibilities near Lucky Plaza are endless. 
If you stay in this area you are only a short ride away from other popular areas of Singapore. Places such as Clarke Quay, Boat Quay, Chinatown and Marina Bay are literally minutes away from Lucky Plaza and the rest of shopping malls along Orchard Road.