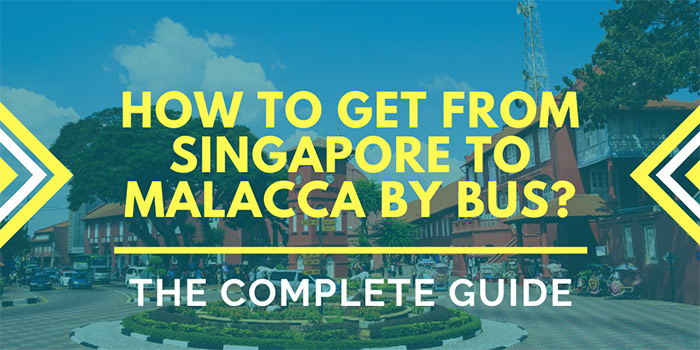 'Everything you need to know about getting from Singapore to Melaka by bus'
Singapore to Malacca  – Overview
Welcome to the complete step-by-step guide on how to get from Singapore to Malacca by bus. In this article, we hope to share personal experiences making our way between these two fascinating cities. By the end of this article, we hope that you clearly understand the process of using a bus to get between Singapore and Malacca so that you can build an affordable and efficient travel experience.
Both Singapore and Malacca are loaded with historical attractions to explore.  Malacca is located between both Singapore and Kuala Lumpur. Consequently, it tends to receive visitors from both cities. This is especially true during peak travel periods such as Chinese New Year.  The popular ways to get from Singapore to Malacca are by bus, car and train. 
---
Why should you visit Malacca? 
Malacca, also known as Melaka, is an excellent place to visit for at least 2-3 days. We have been to Malacca on multiple occasions and every time we go, we are impressed by the culture, attractions, and of course, food. UNESCO recognizes it as a world heritage location.
The tourism industry in Malacca is centred around a famous street called Jonker Walk. Expect to find aged shophouses, lots of street hawker stalls and a bustling night market that is extremely popular with visitors.
Many of Malacca's major attractions are within walking distance of Jonker Walk. Consequently, it is easy to get around once you arrive from Singapore. Simply find a hotel close to Jonker Walk and use that as your base throughout your stay. Aside from Jonker, you can explore nearby attractions such as A Famosa, Cheng Hoong Teng Temple and Dutch Square. 
Malacca is famous for its food. This is one of the best places in Malaysia to sample Nyonya cuisine. When ingredients, distinct spices and cooking techniques are fused between Chinese and Malay cultures, you get a delicious product!    
---
Getting from Singapore to Melaka
Taking a Bus to Malacca
Probably the most popular method to get from Singapore to Malacca is by bus. Intercity buses between Singapore and Malaysia tend to be affordable and quite reliable. One of the reasons why you can still get reasonable prices is because many companies are competing for passengers. This competition keeps bus operators honest and makes sure that you save some cash. 
Here are the steps on how to get from Singapore to Malacca by bus:
1. Book your bus ticket in advance.
There are now far more online websites for booking bus tickets between Singapore and Malacca than ever before! Consequently, you can shop around on different sites and check out different bus operators before choosing your preferred day and time. Some popular websites for booking bus tickets between Singapore and Malacca are:
EasyBook 
12Go Asia
Red Bus
Bus Online Ticket
We recommend that you compare prices on at least 2-3 of these sites to ensure that you are getting the best available fares.
It is also a wise decision to book well in advance. Try to avoid booking last minute during weekends (Friday night, for example) or major holidays. Chinese New Year would be a great time to book a month or two in advance to avoid disappointment. 
What bus companies offer services from Singapore to Malacca?
There are multiple companies with services between Singapore and Malacca. But keep in mind that this list here is subject to change. Companies change routes, and new companies might start-up businesses. 
Here's a list of some of the bus companies operating the Singapore – Melaka route:
KKKL Express Singapore

Konsortium

Starmart Express

WTS Travel & Tours

The One Travel & Tours

Billion Stars

Sri Maju Group

Un Express & Travel

Delima Express

Golden Coach Express

Golden Coach (S)

Superior Coach & Tour

Luxury Coach Service

City Express

707 Inc

Grassland Singapore

Lapan Lapan Travel
You might want to search on a few of the booking sites to see what companies are available for your intended travel dates to Melaka. 
---
2. Make your way to your pick-up point location in Singapore.
When you are booking your bus ticket from Singapore to Malacca online, be sure to note the departure location. Not all bus companies in Singapore operate from the same station. As a result, there are many pick-up locations in the city, and many are unique to each company. 
Here is a list of places that buses from Singapore depart from en route to Malacca:
Queen Street

Golden Mile Tower

China Town

Kovan Hub 206

Boon Lay

Big Box

Tampines

Park Royal Hotel

Concorde Hotel (Orchard Road)

Bugis MRT Exit D
Before you book a ticket, make sure you are departing from a convenient location with respect to your home or hotel in Singapore. Also, these locations are subject to change over time. Double-check your ticket to confirm the pick-up location. 
Taking the MRT in Singapore to your bus pick-up point
We strongly recommend taking the MRT to your bus pick-up point on the way from Singapore to Malacca. Singapore has an excellent public transportation system with multiple train lines servicing most areas of the city. We have written two comprehensive guide articles related to buying MRT tickets:
These articles summarize where to buy tickets and the pros and cons of each one. When we were figuring out how to get from Singapore to Malacca by bus, we used a stored-value card on the MRT. It was quick, affordable and super easy to use. 
---
3. Ride the bus to the Singapore-Malaysia border to clear immigration.
You can expect the bus ride from downtown Singapore to the border to take approximately 30 minutes. However, this time can change depending on when you leave. For example, if you go at rush hour, expect more delays. 
When you arrive at the Singapore departure area, you have to get off the bus and take your luggage. Consequently, remember what your coach looks like (plate number, paint job, driver, etc.).  
We have travelled through this border crossing on multiple occasions, and it's quite easy to forget these details when you are busy carrying your luggage and worrying about immigration. There sometimes can be lots of buses lined up, so consider taking a photo of your bus before you enter the immigration zone.
After clearing Singapore, then get on the bus again and ride it to Malaysian customs. This will require you to get your passport stamped by an officer. Then, get back on the bus again and you should be good to go! Remember to bring your passport and luggage along for the remainder of the ride to Malacca.  
How long does it take to clear immigration and customs on the way from Singapore to Malacca? 
Based on our experience crossing the Singapore-Malaysia border, it typically takes 45 minutes to 1 hour and 15 minutes to pass.  You can expect it to take quite a bit longer if you are travelling during a peak period such as a long weekend or a holiday season such a Chinese New Year. Expect it to take at least a few hours if you arrive during peak time. 
---
4. Ride the bus to Melaka Sentral – the city's main bus station.
After you have cleared immigration and customs, you can simply relax and enjoy the ride. Most buses from Singapore travelling to Malacca will terminate at Melaka Sentral. This is the largest bus station in the city, but it is not particularly close to Jonker Walk and the tourist area. 
---
5. Take a bus or taxi from Melaka Sentral to Jonker Walk (street).
You will have to arrange additional transportation to get from Melaka Sentral down to Jonker walk and the historical area of Malacca. There are two major transportation options here:
Bus 
Taxi
We have experience using both a bus and taxi from Melaka Central down to Jonker. If you do not want to wait or if you're travelling with other people, you may want to take a cab. 
The taxi ride is much more than the bus, but it's obviously much more convenient. It's also cheap if you share the journey with 2-3 other people.
 Catching a bus from Melaka Sentral to Jonker Walk is also quite straightforward. We use this excellent guide article to learn how to take the bus from Melaka Sentral to Jonker. Expect this ride to take 15-30 minutes in moderate traffic.
---
6. Walk to your hotel in Malacca.
Once you get off the bus or exit the taxi, simply walk to your hotel in Melaka.  Fortunately, Melaka is loaded with interesting boutique hotels that are sure to please almost all tourists. 
Try to stay close to Jonker Walk, but not right on the street. It can get loud at night with the market, bars and restaurants. Instead, try to stay 2-3 streets over from it if possible. 
Tourists love hotels in Melaka. A lot of the properties here receive very high review scores from verified guests. Most hotels are also within walking distance to markets and historical sights in the historic area of the city. 
Some of the best hotels in Malacca include the following properties:
5 Heeren Museum Residence (3-star, 9.4/10 review score)
Casa Del Rio Melaka (5-star, 9.2/10 review score)
The Pillohouzzze (3-star, 9.3/10 review score)
---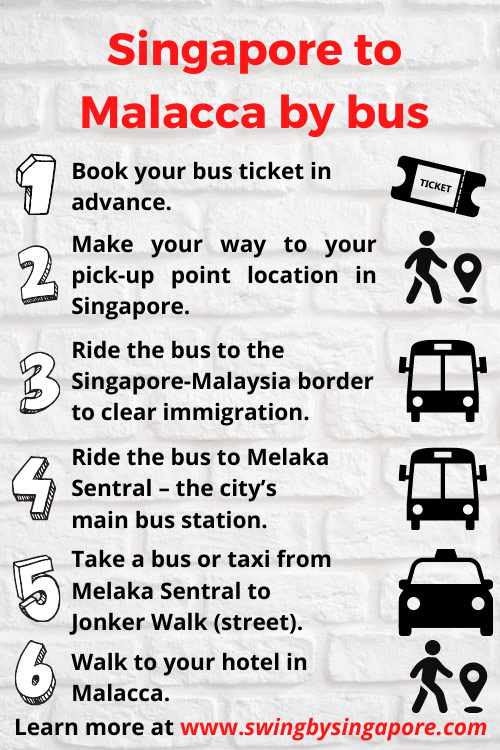 ---
How long is the bus ride from Singapore to Malacca?
The complete bus ride from Singapore to Malacca typically takes between 3-4 hours. If traffic is light along the way and the border is clear, then 3 hours to 3 hours and 25 minutes is a realistic amount of time.  However, if the border area is busy and also the highway,, then you can expect it to take up to 4 hours (or more during peak travel periods).
---
Additional thoughts about taking the bus from Singapore to Melaka 

 
Ideally, this step-by-step guide on how to get from Singapore to Malacca by bus has been detailed enough for you!  Our goal is to make sure that you know where to go through each stage of this trip.  Taking the bus from Singapore to Malacca is actually a pretty straightforward trip. However, some people do get a bit stressed out when they are crossing the Singapore-Malaysia border.
Always remember to book your ticket well in advance and double-check that you are bringing your passport along.  The last thing that you want to do is forget your passport at home or while you're crossing the border.  Once you arrive in the historic area of Malacca, then you will be immediately impressed with the diverse range of cuisine, cultural attractions and elegantly decorated boutique hotels. It is a great place to explore for a few days!