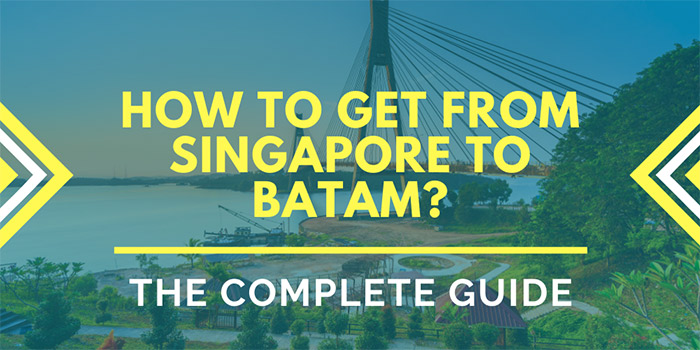 'Everything you need to know about getting from Singapore to Batam'
Singapore to Batam – Overview
Welcome to the complete step-by-step guide on how to get from Singapore to Batam. We hope that this article will give you a clear idea of how to get between Singapore and Batam. We will focus on using a combination of public transportation in Singapore and a ferry ride over to Indonesia (you can book your ferry tickets here).
Many visitors to Singapore spend so much time sightseeing throughout the city that they completely forget about Indonesia's outlying islands such as Batam and Bintan. There are several hotels and resorts on Batam to choose from.
Although these islands are popular amongst Singaporeans, there are still many residents of the city that have never been to them. Consequently, this guide should be useful to anyone who has yet to visit Batam. 
---
Why should you visit Batam from Singapore?  
Batam is an island off the coast of Singapore. Although quite far from Jakarta (the capital of Indonesia), it is a popular Indonesian island for tourism. Although not world-famous for attractions, Batam has a nice mix of outdoor activities, beaches, golf courses, temples and nightlife to keep you entertained for 3-4 days (if not more). 
Another reason why people in Singapore visit Batam is that it is quite a bit cheaper. This is particularly true in terms of eating out at restaurants and booking hotels and resorts.  Seafood, for example, is much cheaper in Batam than in Singapore. 
Batam is also a popular golf destination. It's common for tourists and Singaporeans to make their way from Singapore to Batam for golf vacations. The island has multiple courses, and they receive positive reviews from players. Like most Indonesian destinations, you can also find shopping malls in Batam. BCS Mall, Mega Mall Batam Centre and Nagoya Citywalk are popular malls on the island. They have both local and international brand names to choose from.
Book a 1-day Batam Tour if you are heading to the island (already over 5,000 tours booked).
---
Getting from Singapore to Batam
1. Leave your hotel or home in Singapore and travel to the nearest MRT station.
Getting from Singapore to Batam is much easier if you are staying near an MRT station. The main reason for this is because one of the main ferry terminals to Batam is literally only 1 minute from HarbourFront MRT Station. 
Taking the MRT to the ferry terminal ensures that you bypass traffic and eliminate parking fees while in Batam.
Fortunately, Singapore has a fantastic public transport system. Try to stay within a few minutes of a station to make this trip to Batam more efficiency and affordable. 
Some popular hotels in the city near MRT stations include:
Marina Bay Sands (5-star, 9/10 review score) – beside Bayfront Station.
The Fullerton Hotel (5-star, 9.2/10 review score) – beside Raffles City Station
The MRT network in Singapore is efficient and cheap. Therefore, it's the practical method to get to the ferry terminals in Singapore. However, if you are travelling as a family with 4-5 people, consider getting a taxi instead. With all your luggage, you might find it easier to take a car if traffic is light to the nearest ferry terminal on your way to Batam.
---
2. Ride the MRT to HarbourFront Station.
The next step on your journey from Singapore to Batam consists of an MRT ride to HarbourFront Station. 
HarbourFront Station is attached to HarbourFront Centre – this is where the main ferry terminal to Batam is located. 
You can get to HarbourFront Station by taking the MRT along one of the two following lines:
Northeast Line (Purple Colour)
Circle Line (Yellow Colour)
Types of MRT Tickets?
When you are travelling to HarbourFront station to access the ferries to Batam, you will require an MRT ticket of some form. 
We have written two complete guide articles that outline what kinds of MRT tickets are available to help you out:
Must Read 
When we first tried out how to get from Singapore to Batam, we used a stored-value card. It was affordable and convenient to use. This is a good option if you are in Singapore for a while because they are faster and cheaper to use than traditional tickets.
---
3. Walk from HarbourFront Station to the ferry ticketing/check-in counter.
After you arrive at HarbourFront Station, take Exit B to enter HarbourFront Centre. This is an integrated shopping complex and where the ferry ticketing/check-in area is located. Simply walk to the southern portion of the mall. 
---
4. Buy your ferry ticket from Singapore to Batam.
Currently, there are now many websites available that offer ferry tickets from Singapore to Batam and vice versa. This means that you can select the exact departure time in advance and then plan accordingly. You can also book tickets at HarbourFront, but during weekends and peak holiday periods, you may want to secure your seat in advance.
Selecting your port of arrival on Batam Island
There are five main ports on Batam Island where ferries from Singapore drop off passengers:
Waterfront
Sekupang
Batam Centre
Harbour Bay
Nongsapura
Batam Center and Sekupang are where the two ports where the majority of ferries arrive. Harbour Bay terminal is generally the primary destination for passengers for Nagoya. Nagoya is Batam's main business center. Waterfront and Nongsa are mainly used by tourists bound en route to the main resorts. 
We suggest that you check the exact location of your resort or hotel on Batam before you book your ferry ticket. This will ensure that you get dropped off at the most convenient location.
---
5. Check-in and clear pre-immigration. 
Once you have purchased your ferry ticket to Batam, you should check-in and then clear immigration. The check-in counter closes 25 minutes before departure time. 
You will require the following documents to check-in for your ferry ride from Singapore to Batam:
Passport with a minimum of 6 months validity

Valid visa for your Indonesia (if relevant)

Re-entry visa to Singapore where applicable
When can you check-in your luggage for the ferry ride from Singapore to Batam?
According to Singapore Cruise Centre, the baggage check-in process opens 1 hour before each ferry departure and closes 20 minutes before each ferry departure. Therefore, arrive early and get your bags checked. Then, you will have nothing to worry about.
How much luggage can you bring on the ferry from Singapore to Batam?
You are allowed to bring 10 kg of hand-carried luggage per person with maximum dimensions of 55cm x 40cm x 20cm. Additionally, you can check 20 kg of luggage per boarding pass. You cannot transfer weight to another boarding pass, so don't plan on doing that!
Excess luggage is charged at a price of $1/kg above the aforementioned masses. You cannot exceed 30 kg of checked luggage.
---
6. Board, and ride the ferry from Singapore to Batam.
Once you have paid for your ticket, checked in and cleared the immigration process you are now ready for the ride! Find your seat and listen to relevant safety announcements.
The distance between Singapore and Batam is approximately 12 miles. Keep in mind that the distance will differ depending on what your port is going to be on Batam. 
How long is the ferry ride from Singapore to Batam?
The ferry ride from Singapore to Batam typically takes between 40 minutes and 1 hour. We have included a 20-minute range because certain variables such as weather, the port of call, and queues can influence the time it takes.
---
7. Arrange transportation to your hotel or resort on Batam Island.
Once you have arrived in Batam and collected your luggage, you can head to your hotel or resort for some downtime. Consider pre-arranging transportation with your resort or hire a taxi. 
A few of the highest-rated hotels on Batam Island include
HARRIS Resort Batam Waterfront (4-star 8.5/10 review score)
Radisson Golf and Convention Center Batam (5-star, 8.8/10 review score)
The review scores listed above are according to leading accommodation sites at the time of writing. Consequently, they are subject to change over time.
---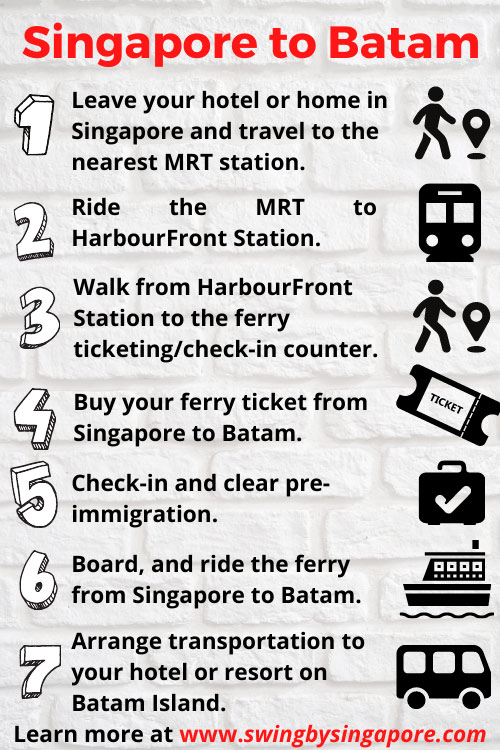 ---
Additional points on how to get from Singapore to Batam
Hopefully, this step-by-step guide on how to get from Singapore to Batam has been helpful!  It really is a smooth and straightforward process if you book your ticket in advance and make your way to HarbourFront using the MRT.  Indonesia does not have the best track record for ferry safety standards. However, the companies here do a pretty solid job of maintaining a high level of safety. 
Also, keep in mind that there is also another ferry port in Singapore called Tanah Merah. This is closer to the airport and should be considered if you want to bypass Singapore and head straight to the islands. HarbourFront is much more convenient, however, if you have been sightseeing in Singapore. In case you want to see a complete overview of the ferry operators from Singapore to Batam, refer to the official list here.