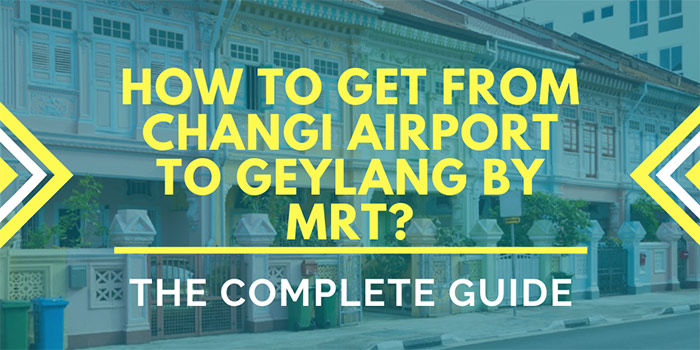 'Everything you need to know about getting from the airport to Geylang using MRT.'
Changi to Geylang – Overview
Welcome to the step-by-step guide on how to get from Changi Airport to Geylang by MRT. In this article, you will learn how to access the MRT, how to buy tickets and which stations you should use. By the end of this article, we hope that you clearly understand the process of using the MRT network to get to Geylang so that you can access your hotel without unnecessary headaches. 
One of the coolest things about visiting Singapore is that it has a fantastic public transportation system in place. You can pretty much access all major attractions and sightseeing areas without a vehicle. This is also the case for accessing the Geylang area of the city. 
Not only does using the MRT in Singapore ensure you bypass traffic, you also save time and money by avoiding the need to park a vehicle.  
---
Why should you visit Geylang? 
Geylang is not usually mentioned in the same sentence as places such as Marina Bay and Sentosa. Although you could argue that Geylang doesn't have Singapore's most famous attractions, it is still an interesting area to explore. 
When you arrive in Geylang, you will notice that it has somehow resisted the modernized look of other areas throughout the city. This is a working-class neighbourhood and an affordable place to shop and eat in comparison to 'trendy' areas. It has a nice selection of hawker stalls and small shops that are reasonably priced. 
Geylang is also quite famous for its karaoke bars and 'late night' restaurants. 'Late' nightlife here still exists. Besides, there is a surprising number of cultural landmarks worth exploring in Geylang. We have included a list below for your convenience:
The Intan
Sri Sivan Temple
Malay Village
Geylang Serai Market
Wisma Geylang Serai
Char Yong (Dabu) Association
Geylang Fire Station
The Former Queens Theatre
Rumah Bebe
Peranakan Houses
Khadijah Mosque
 Conveniently, Geylang is well serviced by MRT and has a large selection of boutique hotels and hostels. Actually, Geylang is one of the cheapest areas in all of Singapore for hotel rooms. Consider staying here if you want to save some cash while having direct access to the MRT. 
Also, be sure to check the review scores before confirming. Some of the hotels in Geylang receive abysmal reviews from guests.
Popular places to stay in Geylang include Ibis Budget Singapore Sapphire (2-star, 8/10 review score) and Spacepod@sg (1-star, 8.7/10 review score).   
---
Getting from Changi to Geylang
1. Once you land, clear immigration and customs and then travel to the MRT.
Changi Airport in Singapore has developed a solid reputation as one of the best airports in the world. It is very organized and extremely well-managed. 
You will also be delighted to hear that Changi is connected to the MRT.  Consequently, you can land in Singapore and board a train headed for Geylang in 15 minutes if there are no queues along the way!
Like at most airports, clear immigration, collect your luggage and pass through customs. Then, follow the airport signs or ask airport personnel to direct you to Changi Airport MRT Station. You can get tickets there and access the system.
---
2. Purchase your MRT ticket for Geylang. 
When you are riding the MRT Network in Singapore you of three primary forms tickets to choose from:
Single journey tickets
Stored-value cards
Singapore Tourist Passes
When we were figuring out how to get from Changi Airport to Geylang by MRT, we used a stored-value card. All you need to do is tap to enter and exit the system after the card is purchased and loaded with a cash balance. Both single journey tickets and Singapore Tourist Passes also have their benefits. 
To learn more about MRT tickets in Singapore, you can refer to these two comprehensive guides:
When you read these two articles, you should be able to select the right type of ticket to suit your travel preferences and personal itinerary in Singapore.
---
3. Board the MRT train and travel to Aljunied Station.
Board the train at Changi station and bring all of your luggage along for the ride. Travel two stations to Tanah Merah Station. From Tanah Merah, you will take a westbound train to Aljunied Station. Aljunied is centrally located in Geylang. 
Aljunied Station is located along the East-West Line, which is represented in green colour on Singapore's MRT map. 
**Note: The neighbouring stations to Aljunied on the East-West Line – Kallang and Eunos can also be used to access the Geylang district of the city. Similarly, Paya Lebar Station can also be used to get to Geylang, but it isn't convenient to reach directly from the airport (because it is on the Circle Line).
---
4. Alight at Aljunied or another station in Geylang and walk to your hotel.
Get off the train at Aljunied or another station in Geylang. Simply tap your card to exit the MRT network. Most of the hotels in Geylang are located south of the East-West MRT Line. Consequently, be prepared to walk 5-10 minutes to your respective hotel.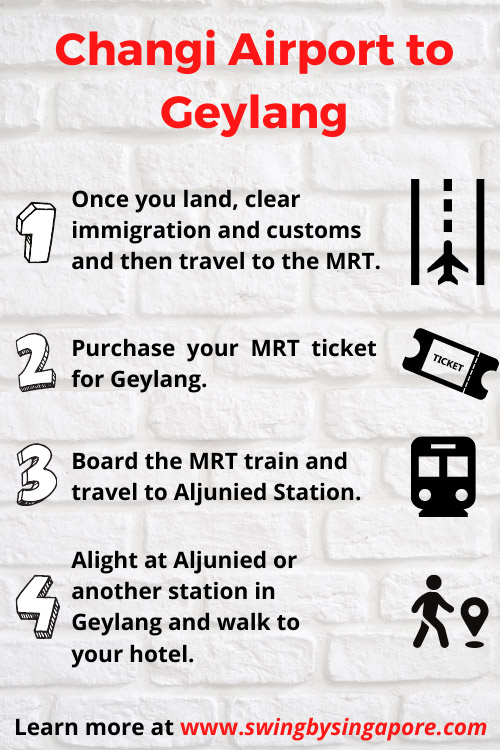 ---
How long does it take to travel from Changi Airport to Geylang using the MRT?
When you are travelling from Changi Airport to Geylang by MRT, expect some minor fluctuations in travel time.  Variables such as the number of people getting on and off at every station and time of departure will change. For example, during busy times, it may take longer for people to get off the train at each station along the way. 
On average, however, the travel time from Changi Airport to Geylang takes about 33 minutes.
---
 

$$$

 How much does it cost to take the MRT to Geylang from the Airport?
Not all passengers pay the exact same fare on Singapore's MRT network. Two people travelling to Geylang may pay a different price. You can expect adults to pay the most for a trip with discounted rates for senior citizens, students, and disabled individuals. 
At the time of writing, it costs $1.64 for adults to take the MRT from Changi to Geylang (Aljunied Station) with a stored-value card. Similarly, the cost for children and students is $0.63, whereas it is $0.92 for senior citizens and disabled persons. These are all 'stored-value card' prices.
Prices increase if you use a standard 'single journey ticket.' You can expect to pay $2.50 if you purchase a standard ticket from a ticketing machine at the airport to reach Geylang. 
---
Where should you stay in Geylang?
As mentioned before, most of the hotels in Geylang are situated south of the East-West MRT line, between Aljunied and Kallang Station. Properties in this area of Singapore tend to be extremely budget-friendly. However, do not expect large rooms and fancy amenities.  This area is great for saving some cash. Guests positively review not all properties in this area. 
Geylang is known to have some pretty run-down hotels. So, you do have to research before booking! There are some great boutique hotels and hostels within 5-10 minutes of Aljunied and Kallang. 
We have included some recommendations below based on our own experience and the reviews of other travellers:
Ibis Budget Singapore Sapphire (2-star, 8/10 review score) 
Spacepod@sg (1-star, 8.7/10 review score).   
Ibis Budget Singapore Emerald (2-star, 7.8/10 review score)
Ark Hostel (1-star, 7.9/10 review score)
A lot of the street-side restaurants in Geylang are quite affordable.  You will see a lot of budget travellers staying in this area of the city with direct access to multiple MRT stations.
---
Any more questions about your trip to Geylang?
This has been a step-by-step guide on how to get to Changi Airport to Geylang by MRT. Hopefully, the information that we have provided will be useful to you. 
Geylang is not the most popular area for sightseeing in Singapore. However, with cheap accommodation prices, affordable food, and a lively nightlife scene, some tourists still stay in this area.
It is quite possible to stay in Geylang and then take the MRT down to popular areas such as Chinatown and Marina Bay in just over 10 minutes. If you purchase a Singapore Tourist Pass, then these MRT trips will be covered.
Staying in this area and effectively using the MRT can save you serious cash over the course of a few days. However, if you plan on doing a lot of sightseeing (and going back and forth to Geylang all the time) without a Tourist Pass, these rides will add up!