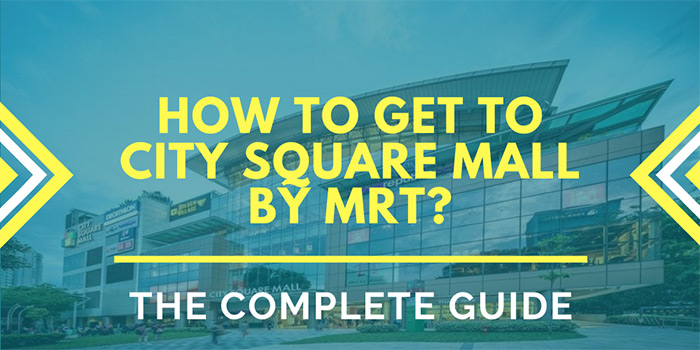 Welcome to the complete guide on how to get to City Square Mall by MRT. By the end of this article, we hope that you can get to City Square Mall in a fast, affordable manner. This popular mall can be easily accessed using Singapore's MRT which services trains all over the city.
Some of the clear benefits of taking the MRT here include avoiding traffic jams and unnecessary parking fees when you arrive at the mall. Also keep in mind that Singapore's MRT is close to many hotels in the city, making it easy to book a room within walking distance of a station. Singapore's MRT also enables you to visit the city's top attractions in a fast, affordable and convenient manner. 
---
Why should you City Square Mall in Singapore?
City Square Mall is a nice, popular shopping mall in Singapore that features over 450,000 square feet of space for retail shops. It is located within 5 minutes of Little India at the junction of Serangoon and Kitchener Road. 
Although it consists of 200 tenants it is much more than just a shopping centre. According to the official website, City Square Mall focuses on being "a miniature 'town-centre' which provides the perfect setting for the community to meet, play and shop while acquiring an eco-learning experience." For example, City Square Mall has a popular kids centre called the Airzone that is very popular with visitors. 
Similar to other malls in Singapore, City Square Mall has an extensive selection of restaurants and cafes to choose from. Expect to find both local and Western choices here. 
Conveniently, City Square Mall is well-serviced by the MRT and it is close to many hotels such as Park Hotel Farrer Park (4-stars, 8.1/10) and PARKROYAL on Kitchener Road (4-star, 7.6/10 review score).
---
Getting to City Square Mall using MRT 
Step 1: Walk to the nearest station from your hotel room.
Once you have booked a hotel room in Singapore that is close to a station, you will have no problem getting to City Square Mall.  Remember, Singapore's afternoon heat can get really intense, so you probably only want to walk two or three minutes to reach the closest station. Select your room wisely.
Simply walk from your room to the nearest station and prepare to purchase a ticket.
---
Step 2: Buy your MRT Ticket to Farrer Park Station.
Getting to City Square Mall is really straightforward using the MRT. Once you arrive at your station of origin you have to first select what kind of ticket you are going to use.  At the time of writing there are two different types of tickets that you can choose from:
Stored value cards 

Singapore Tourist Passes
We have written to comprehensive guides that will provide you with all the details you need about these passes:
If you are staying longer than 3 days then you might want to get a stored-value card. This is the type of card that we used when we were first figuring out how to get to City Square Mall by MRT. Singapore Tourist Passes are ideal if you are spending only 1-3 days in the city and plan on checking out a whole range of different attractions. 
Once you have purchased your ticket, then you should be set to get on the train towards City Square Mall.
We highly recommend getting a multiple-attraction pass to use alongside your transport card. You can save up to 52% on entrance fees to Singapore's top attractions by pre-purchasing your tickets online. Over 200,000 of these passes have been sold online already.
---
Step 3: Travel on the MRT to Farrer Park Station.
The best station for accessing City Square Mall is Farrer Park Station. Knowing which MRT line at the station is located can help to expedite your trip to the mall.
Farrer Park Station is located on the North-East Line which is represented in purple colour on Singapore's official train map.  Fortunately, Singapore has MRT maps that are posted in each station to help you navigate your way throughout the city. Similarly, there are route signs on each train to keep you informed.
It is likely that you will reach Little India Station directly before Farrer Park if you are coming from the city centre. When you hear 'Little India' being announced on the train, move closer to an exit. You will be getting off at the next station.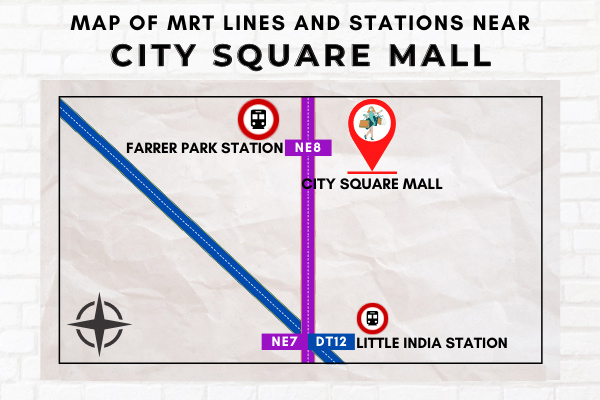 ---
Step 4: Alight at Farrer Park Station.
When you arrive at Farrer Park Station it's time to get off. Be sure to bring all of your belongings with you. Follow the signs to the exit area of the station and tap your card.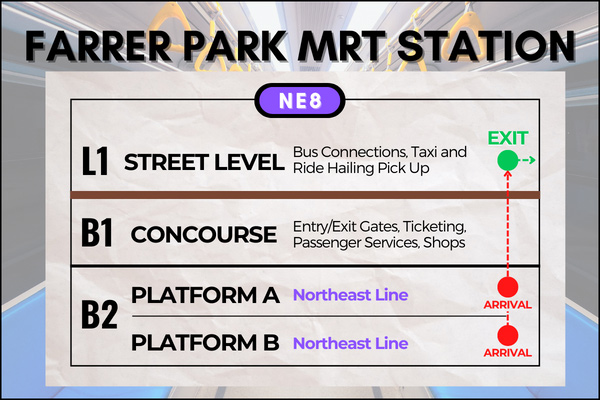 ---
Step 5: Walk from Farrer Park Station to City Square Mall.
The walk from Farrer Park Station to City Square Mall is short and easy. The mall is just slightly southeast of the station. However, there are a total of 9 exits from Farrer Park, so be sure to select the correct one!
Take Exit I from Farrer Park Station to City Square Mall.  This is the basement level of the station. 
Walking from Farrer Park Station to City Square Mall should take you only 1-2 minutes because the walk is only 100 meters.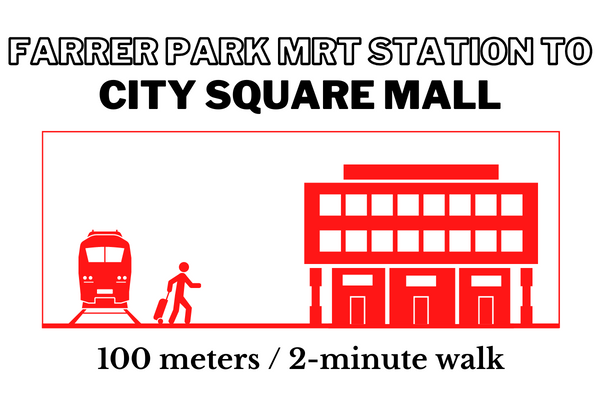 ---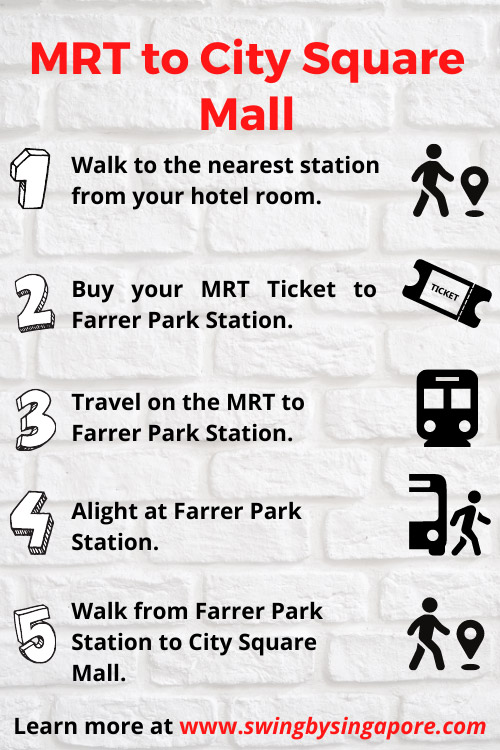 ---
Should you stay near City Square Mall while you are in Singapore?
City Square Mall is a little bit north of the main tourist zone of the city, but this doesn't mean it's a bad area to stay!
Actually, there are a lot of budget-friendly accommodation options south of City Square Mall along Jalan Besar. A good example is the Holiday Inn Express Singapore Serangoon (3-star, 8.6/10 review score). 
Also, directly across from the mall you can stay at PARKROYAL on Kitchener (4-star, 7.6/10 review score). Even closer to Farrer Park Station is Park Hotel Farrer Park (4-star, 8.1/10 review score). If you stay at either one of these properties you will be able to access the mall and station in less than 1 minute. 
Since Little India is only one station south of Farrer Park, you can either walk or take a very short MRT ride to all of the restaurants and shopping options in this vibrant area of Singapore. Little India has many temples to explore and some of the cheapest stores in all of Singapore. 
You can expect the hotels around City Square Mall to be considerably cheaper than down in Marina Bay. Hotels such as Raffles and Marina Bay Sands are considerably more expensive.
---
Do you have more questions about getting to City Square Mall?
Ideally, this guide on how to get to City Square Mall by MRT has been descriptive enough to make this a stress-free trip.  We do realize, however, that you may have more questions. In this case please feel free to send us an email and we would be happy to help you.
Although City Square Mall may not be quite as popular with tourists as the Shoppes at Marina Bay Sands (MRT directions) or VivoCity, it does have a solid selection of stores and restaurants to choose from.  There are a lot of activities within the mall that are tailored towards families and children. Singapore Airzone is one place you might want to visit if you have children. 
It is also quite quick to get to areas such as Chinatown, Marina Bay, Orchard, and Clarke Quay using the MRT from Farrer Park. This makes it easy to integrate City Square Mall into shopping and sightseeing itineraries. Since this is a bit north of these popular areas, you might want to get a stored-value card or a Singapore Tourist Pass to save a bit of cash getting to/from different attractions from this area.