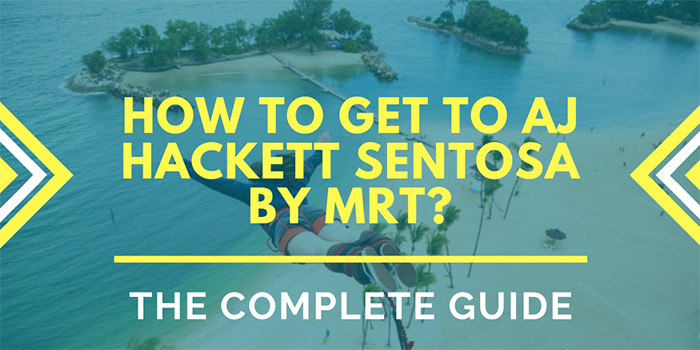 This is the complete guide on how to get to AJ Hackett Sentosa by MRT. Based on our extensive travel experience in Singapore, we have learned how to get to this popular attraction on Sentosa island using the train. The first section of this trip consists of an MRT ride followed by a Sentosa Express train to the Island. 
There are many reasons why you should consider taking the MRT to AJ Hackett Sentosa. First of all, you do not have to worry about traffic congestion in the city center on the way to the island. Furthermore, when you arrive on the island you do not have to worry about parking fees. From a financial perspective, taking the MRT is an affordable option that is also convenient and fast. 
---
Why should you visit AJ Hackett on Sentosa Island?
AJ Hackett Sentosa is one of Singapore's most popular and exciting new attractions. Ideally, located on Sentosa Island, AJ Hackett is the ideal place for 'thrill seekers'. It consists of three adrenaline-pumping activities that are sure to get your blood pumping. The Bungy Jump is 47 meters above ground and it has become a 'must-try' in Singapore. Expect sweeping views and balmy ocean air throughout this experience. 
AJ Hackett Sentosa also offers what is called the 'Giant Swing'. This is a super-fast 120 km/h swing that allows up to three people to be rocketed from a height of 40 meters above the ground. The swing starts with a drop and then you swoop towards the horizon. Expect to swing back and forth multiple times. 
Lastly, the 'Skybridge' is a viewing platform that is 47 meters above the ground. This is the perfect place to overcome your fear of heights while capturing amazing views of Sentosa's beaches. It features what is called the 'Glass Cube'. Try to step into the cube to see if you truly have no fear of heights. 
According to AJ Hackett's website for Sentosa, you can receive free entry to the Skybridge if you pay for either the Bungy or Giant Swing. Also, Keep in mind that AJ Hackett Sentosa is close to many other attractions and hotels on the island. For example, it is within walking distance of Siloso Beach Resort (5-star, 7.5/10 review score) and Siloso Beach. It is also easy to get to by public transport which we will outline below. 
---
Getting to AJ Hackett Sentosa using MRT and Sentosa Express
Step 1: Walk from your hotel to the nearest MRT Station.
If we assume that you are not staying on Sentosa island, then it is very important that you book a hotel room near an MRT station.  This will enable you to conveniently access AJ Hackett Sentosa and other sites throughout the city.  Avoiding taxi and parking fees is a viable way to save money during your visit. 
Fortunately, Singapore has an extensive selection of hotels that are only one or two minutes from MRT stations.  This can allow you to fly into Changi Airport and avoid using vehicles throughout your entire stay.  AJ Hackett and the rest of the attractions on Sentosa Island can be reached by public transportation.
The two properties below are just two examples of many properties that are conveniently located close to the MRT:
Fairmont Singapore

(8.9/10 Review Score) (

Esplanade Station

)

The Capitol Kempinski Hotel Singapore

(9.3/10 Review Score) (

City Hall Station

)
After your accommodation is sorted, now turn your focus onto getting an MRT ticket. 
---
Step 2: Buy your MRT Ticket to reach HarbourFront Station
Getting to AJ Hackett Sentosa can be straightforward, but it does require one transfer if you plan on using the train all the way to the Island. You have to first travel to HarbourFront MRT station. 
This is where you will transfer to the Sentosa Express.
To get to HarbourFront station you will have to decide on what kind of MRT ticket you plan on using. 
At the time of writing there are three different types of MRT tickets that can be used: 
Single journey trip tickets

Stored value cards 

Singapore Tourist Passes
Before you select a ticket we suggest that you think about how long you are going to be in the city and how frequently you plan on using public transportation. We have written this comprehensive guide on how to buy MRT tickets in Singapore if you want all the specifics.  However, in general, single journey tickets are the best choice only if you are going to use the MRT a few times. 
We used a stored value card when we were figuring out how to get to AJ Hackett Sentosa by MRT. All you have to do is buy a card, top it up with cash and then use it for multiple trips. These are popular with locals and ex-pats living in the city because they can be used on buses and trains.
Singapore Tourist Passes are a great option if you plan on visiting a lot of attractions over a 3-day period or less.
Regardless of what kind of tickets or passes you are going to use, make sure that you are going to HarbourFront Station first.  This is the first step to getting to AJ Hackett Sentosa.
---
Step 3: Go to HarbourFront Station using the MRT.
Most tourists staying in Marina Bay or Chinatown use the North-East Line (represented in purple colour on the train map) to reach HarbourFront Station. In this case, the preceding station to HarbourFront is Outram Park. 
When you hear "Outram Park" station being announced, move closer to an exit because you will be getting off at the next stop.
Also, expect to hear verbal announcements be made along the way to inform you of upcoming stations on the line.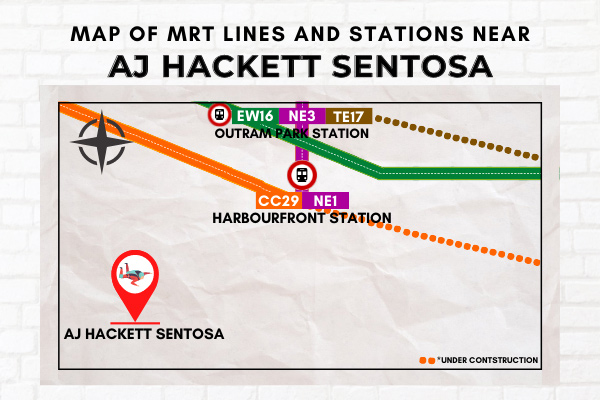 ---
Step 4: Exit the MRT at HarbourFront and walk to Sentosa Express Monorail Station.
AJ Hackett Sentosa cannot be directly accessed using the MRT. If you want to take the train to this attraction on Sentosa you have to transfer over to the Sentosa Express Monorail. 
However, the walk from Harbourfront MRT to the Sentosa Express Monorail is short and convenient following the steps outlined below:
To use the Sentosa Express you must first take Exit E to get out at HarbourFront Station. 
Afterwards, walk to VivoCity shopping mall. Follow the relevant signs to the third floor of the mall.
Sentosa Express Monorail Station is located on the third floor of the mall and it is easy to see.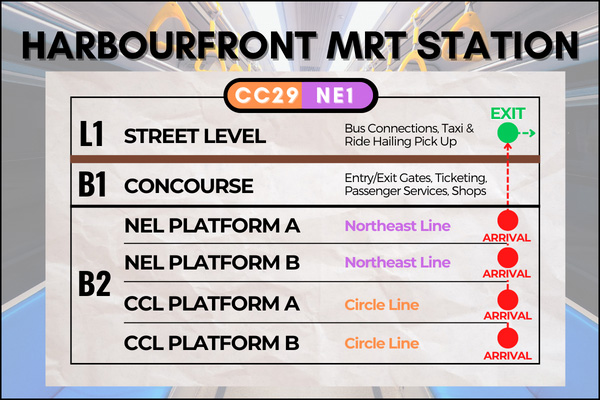 ---
Step 5: Get a Sentosa Express ticket to Beach Station and ride the train.
Buy a Sentosa Express train ticket to Beach Station. These are round-trip tickets just in case you're wondering. Alternatively, you can also use your EZ link (stored value card).
The Sentosa Express monorail line is quite short and this ride shouldn't take you very long.
---
Step 6: Either walk from Beach Station or take the Beach tram (shuttle) to AJ Hackett Sentosa.
Alight at Beach Station. Now, you have the choice of either walking to AJ Hackett or taking the beach shuttle (tram). 
Walking from Beach Station
Walking from Beach station to AJ Hackett Sentosa should take you approximately 14 minutes. The walk is 1.1 km along Siloso Beach.
Although the walk is easy, you might want to take the tram if it's really hot outside.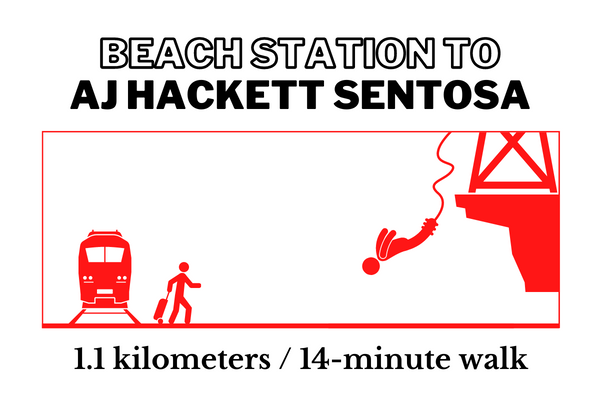 Taking the Tram from Beach Station
The beach tram is located beside Beach Station. 
This is a free service that you can use to get to AJ Hackett Sentosa. All you have to do is wait in line to get on the shuttle and then alight at the third stop.  You can also ask the driver to inform you of when to get off to reach AJ Hackett. This might be the best option if you are travelling with children or it is really hot outside.
---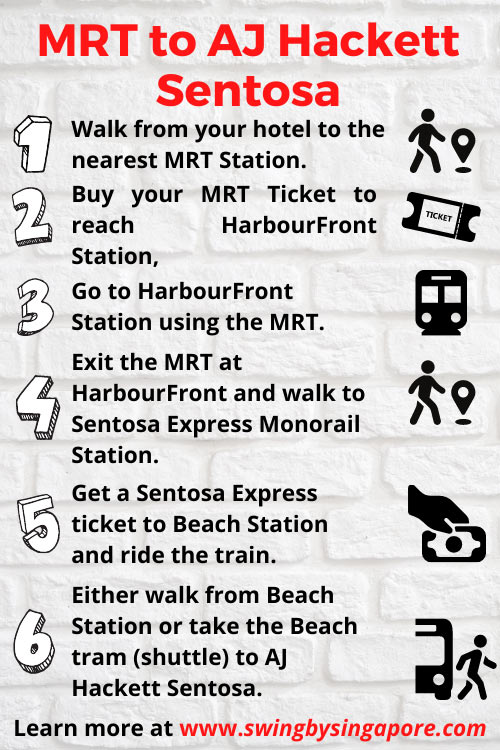 ---
Should you stay near AJ Hackett Sentosa while you are in Singapore?
AJ Hackett Sentosa is conveniently located in a very picturesque area of Sentosa island. It is close to the southern beaches and this area is known for excellent views of the ocean. We recommend this area if you are travelling with children and want to be positioned near the sand. You can literally walk from this area to Siloso Beach in less than one minute.
There are two main resorts that are fairly close to AJ Hackett Sentosa. The closest one is called Siloso Beach Resort. It is a good family-friendly option that is not overly expensive. However, it does receive review scores that are lower than many other properties on Sentosa Island.
 The second option that is not too far from AJ Hackett Sentosa is Shangri-La's Rasa Sentosa Resort & Spa (5-star, 8.6/10 review score). This is a great option and it receives higher review scores than Siloso Beach Resort.  It is located at the far end of Siloso Beach and has excellent views of the ocean.
---
Highest Rated Resorts on Sentosa
If you are visiting AJ Hackett Sentosa and other attractions on the island then you might want to consider staying at one of the highest-rated resorts. The options that we are providing below are not particularly budget-friendly, but they are excellent places to stay.
Capella Singapore (5-star, rated 9/10)
Capella The Club Residences Singapore (5-star, rated 8.8/10)
The Outpost Hotel Sentosa by Far East Hospitality (5-star, rated 8.9/10)
W Singapore – Sentosa Cove (5-star, rated 8.7/10)
Take note that these the review scores stated above are taken at the time of writing from leading accommodation websites. Consequently, they are subject to change over time as more reviews are completed. We are not a direct partner of any of these properties, but we do recommend highly rated properties to our readers because they have been shown to be reputable establishments with high service standards.
---
Any more questions about your trip to AJ Hackett Sentosa using public transportation?
Ideally, this guide on how to get to AJ Hackett Sentosa by MRT has been descriptive enough for you. We want to make sure that you can get to this attraction fast and stress-free.  We are always open to feedback and we are willing to help you if you do have more questions about this trip.  All you have to do is send us an email and we would be happy to help.
One of the cool things about visiting AJ Hackett Sentosa is that it is really close to other attractions. It is really easy to create an itinerary that consists of AJ Hackett, the beaches and other attractions on Sentosa. You can easily take the beach shuttle to get to Beach Station. From there, you can access other major attractions in Resorts World Sentosa such as Universal Studios and Adventure Cove Waterpark. Sentosa island has enough attractions to keep you and your family busy for at least 3 or 4 days.  It is also so easy to get into Singapore's City Center from the island using the MRT or bus network.
Also, keep in mind that you can reach AJ Hackett Sentosa by using other means of transportation aside from the MRT and Sentosa Express.  Electric vehicles on Sentosa are becoming more popular and it is possible to reach the island by bus as well.