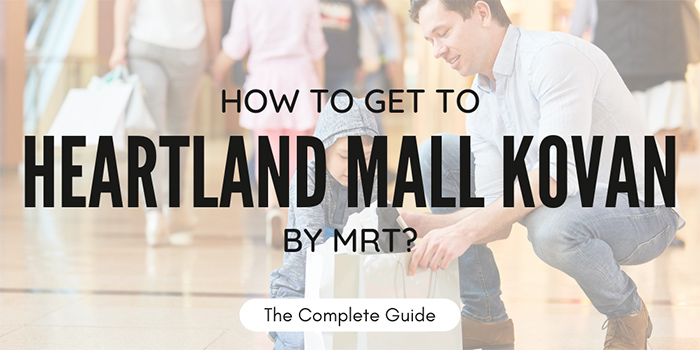 Get to Heartland Mall Kovan super fast and affordably via MRT with these specific directions. 
Welcome to the complete, step-by-step guide on how to get to Heartland Mall Kovan by MRT!
One of the most common questions we get asked is how to get around Singapore without stepping foot in a vehicle. Fortunately, Heartland Mall is very well serviced by Singapore's extensive MRT network. 
In this article, we will explain the entire process of getting to Heartland Mall using MRT. To get there fast and affordably, you have to be familiar with lines, stations and transfer information. 
Aside from sharing how to reach the mall, we will also discuss other shopping malls and nearby points of interest. Ideally, you should develop a 1-day itinerary consisting of attractions near Heartland Mall. 
---
Shopping at Heartland Mall Kovan – Visitor Information
Heartland Mall Kovan is a popular shopping mall located in the Hougang District of Singapore. As its name suggests, it is in Kovan – a neighbourhood in Hougang. 
It's particularly busy on weekends when families are out and about. 
Heartland Mall consists of four levels and approximately 112 shops and services. It is located close to several housing estates and educational institutions. Kovan Food Centre & Market is located right next door, a popular dining place with delicious traditional hawker foods. 
Similar to other malls throughout the city, you can expect atrium promotions on weekends and special times of the year. Aside from food and beverage providers, you can expect to find plenty of style, wellness, and aesthetic services here. 
One of the convenient benefits of shopping at Heartland Mall Kovan is that it's directly serviced by Singapore's MRT, making it super easy and affordable to visit!
---
Getting to Heartland Mall Kovan by MRT
Step 1: Plan your trip – lines stations and transfers.
Getting to Heartland Mall Kovan is super easy to access via MRT if you are familiar with MRT lines and transfers. If you are lucky, you might not even have to make a transfer to access the mall. But, for many people, one transfer might be required.
The section below will summarize all the station and line information you need to get there super fast and affordably.
MRT Station and Line Information
The best station (by far) for accessing Heartland Mall is
Kovan Station (NE13)
 Kovan MRT Station (NE13) is the 13th station on the North-East MRT Line. 
In case you're wondering, the North-East MRT Line is shown in purple line on metro maps throughout the city. 
Getting to the North-East Line – Transfer Information 
When taking the MRT to Heartland Mall Kovan, your priority should be to get North-East Line as quickly as possible.
You may have to make 1 transfer for most commuters to reach the North-East Line. 
Here are the most popular transfer stations:
Little India (transfer between the North-East and Downtown Line)
Serangoon (transfer between the North-East and Circle Line)
Dhoby Ghaut (transfer between the North-South, North-East and Downtown Lines)
You can also view station maps to identify which transfer station you need to go to on the way. 
---
Step 2: Walk to the nearest MRT station to begin your trip to Heartland Mall.
If you are staying in Singapore (resident), skip down to #3 below. 
If you're visiting from abroad, prioritize booking a room as close as possible to an MRT station. 
Every time you travel to a new point of interest in Singapore, including Heartland Mall Kovan, you will get there faster and cheaper. 
Parking fees, taxi fees and the time spent in traffic road congestion will just make your trip a lot less efficient. 
As a general rule, try to stay 500 meters away from a station (or less). Easy access makes for an easy start to your trip. 
Refer to the three properties below. We have found them to be within convenient proximity to neighbouring stations. 
Luxury
Marina Bay Sands (5-star, 9.0/10 review score, close to Bayfront Station) 
Mid Range
Hotel Bencoolen @ Hong Kong Street (4-star, 8.3/10 review score, very close to Clarke Quay Station)
Budget
Chic Capsule Otel (2-star, 8.5/10 review score, very close to Chinatown Station)
Choosing the best area to stay in Singapore is super important. Some areas are way more expensive than others. And, some areas simply don't have the most convenient access to MRT Lines. 
---
Step 3: Purchase a ticket to reach Novan MRT Station (NE13).
There are various types of tickets for getting to Heartland Mall Kovan. 
Here are the main types of tickets:
1) Stored Value Cards
2) Singapore Tourist Passes 
3) Single/Multi-Trip Tickets
Stored value cards have been a popular choice for Singaporeans and permanent residents. Once you buy one, you can use them on both buses and trains throughout the city. We used one of these while learning how to get to Heartland Mall Kovan by MRT. 
Simply buy the card. Top it up, and then just tap and enter and exit the MRT network. 
Tourist Passes are another practical option. They are popular with foreign guests spending a few days in the city.  Consider getting one if you have a busy itinerary planned that features several points of interest.
Like stored value cards, you can use these for both buses and trains throughout Singapore. 
If your answer is yes to the three questions below, consider buying one!
Are you visiting from abroad?
How many days are you in the city (1-3 days or more)?
Do you plan on travelling a lot (MRT, LRT and Bus Services)?
Traditional single journey and multiple journey tickets are also available to reach Heartland Mall Kovan. Simply go to a ticketing machine in your first station on the way to the mall and buy your ticket. 
Remember to avoid rush hour queues if you are buying traditional tickets!
---
Step 4: Ride the MRT to Kovan Station (NE13), making any necessary transfers along the way.
Make any needed transfers to the North-East MRT Line.
Travel on Singapore's MRT to Novan Station (NE13).
Serangoon Station (NE12) is located directly south of Kovan, whereas Hougang Station (NE14) is directly north. These are the two neighbouring stations that you have to be familiar with on your way to Heartland Mall. 
Refer to station maps to see which station you will stop at first. Move closer to an exit on the train well before stopping at Kovan (NE13).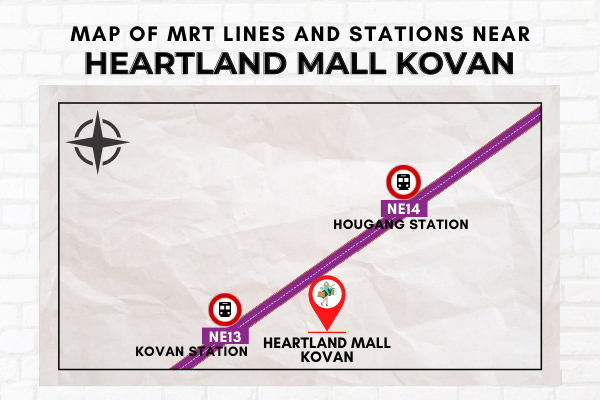 ---
Step 5: Alight at Kovan MRT Station (NE13).
Get off the train at Kovan Station (NE13). 
Remember to collect all your belongings from the train. 
---
Step 6: Exit Kovan Station (NE13). 
Kovan MRT Station (NE13) is built underground, and it's located along the boundaries of the Kovan and Lorong Ah Soo planning subzones. It is underneath Upper Serangoon Road and near the junction of Tampines Road.
You will arrive at Basement Level 2 of Kovan Station on the train.
To reach the station exits, you have to travel up to L1 at street level. 
Once you reach street level, there are three exits to choose from – Exit A, B, and C. 
Take Exit C from Kovan Station to access Heartland Mall Kovan. 
---
Step 7: Walk directly from Kovan Station to Heartland Mall.

 
Conveniently, Exit C at Kovan Station will bring you right out onto Upper Serangoon Rd, directly northwest of Heartland Mall. 
Walk south along Upper Serangoon Rd. to access the entrance to Heartland Mall.
How long does it take to walk from Kovan Station to Heartland Mall?
Heartland Mall is extremely convenient to access from Kovan Station. Expect the walk to take less than 2 minutes from the station. The total walking distance is about 200 metres.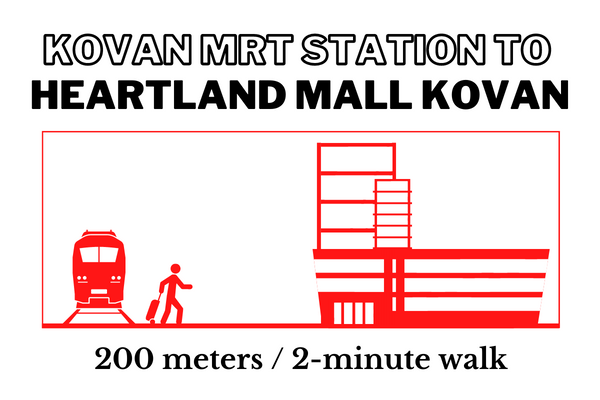 ---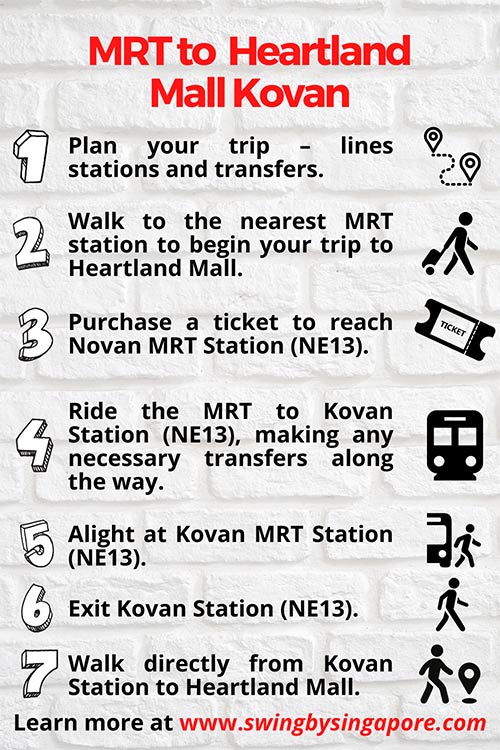 ---
Should you stay near Heartland Mall or another area in Singapore?
There are very few quality places to stay near Heartland Mall in Singapore. Despite a healthy selection of shopping malls, hawker centres, and recreation areas, few visitors stay here. Instead, they prefer staying further south. 
If you do want to stay close to Heartland Mall Kovan, then consider staying at one of the three following places:
Village Residence Hougang by Far East Hospitality (4-star, 7.4/10 review score, 12+ reviews)
Rest House (8.6/10 review score, 36+ reviews)
Hotel 81 Kovan (2-star, 6.7/10 review score, 300+ reviews)
You will find way more hotels and hostels at all price ranges in Little India, Chinatown, Marina Bay and Bugis. 
Little India is one of the best areas to stay for quick access to both Hougang (Heartland Mall) and the southern areas near Marina Bay. The North-East MRT Line conveniently services it. 
You can stay near Little India Station and travel along the North-East Line without breaking a sweat! 
Here are a few properties within walking distance of Little India Station:
Citadines Rochor (4-star, 8.6/10 review score, 160+ reviews) 
Hilton Garden Inn Singapore Serangoon (4-star, 8.2/10, review score, 2400+ reviews).
Learn More – the articles below outline more information about staying and enjoying Little India in Singapore:
---
What to see and do near Heartland Mall?
Kovan and the surrounding area around Heartland Mall is not big on tourists sites. 
But, you will find several affordable shopping centres, food centres and recreational areas that are popular with residents. 
Kovan Hougang Market & Food Centre is a perfect example. 
It is physically attached to Heartland Mall and offers affordable and delicious hawker dishes.
If you are looking for other shopping opportunities, then refer to the list below:
Hougang 1
Hougang Green Shopping Mall
The Seletar Mall
Hougang Mall
The Promenade @ Pelikat
Rivervale Plaza
Rivervale Mall
Compass One
Buangkok Square
Hougang Mall and Compass One are particularly convenient to visit. They are right beside other MRT stations on the North-East Line. 
Rivervale Plaza, Rivervale Mall, The Seletar Mall and Compass One are north of Heartland Mall. Travel north to Sengkang MRT Station (NE16). Transfer to the Sengkang LRT and then take the Sengkang LRT Loops to the malls. 
Some of the most popular recreational areas/facilities around Heartland Mall include:
Kovan Sports Centre
Aroozoo Park
Surin Avenue Neighbourhood Park
Maplewood Park
You should expect to see lots of families enjoying these spots!
---
Conclusion
Ideally, this step-by-step guide on how to get to Heartland Mall Kovan by MRT will get you there fast and easily!
It's hard to argue with the fact that Heartland Mall is in a super convenient location. Once you arrive at Kovan Station (NE13), it's really just a matter of following the station exit signs to the Mall. 
You should be there in 2 minutes or less once you alight from the train!
Probably the most challenging thing to remember on your way to the mall is where to transfer lines. 
Once you're on the North-East Line, it's super easy to get off at Novan Station. 
Stored value cards and Tourist Passes are convenient to get there. All you need to do is tap and go!
Let us know if you have any questions about getting to Heartland Mall, and save travels!