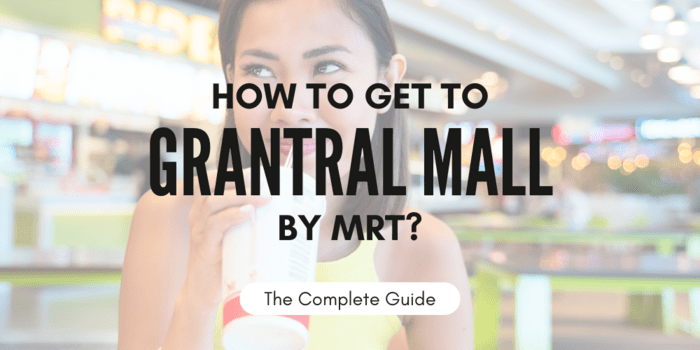 Get to Grantral Mall in Singapore fast and affordably using this comprehensive guide!
Welcome to the step-by-step guide on how to get to Grantral Mall by MRT in Singapore.
It doesn't matter where you are beginning your trip to this mall in Singapore. 
We will share all the information you need to reach Grantral Mall as quickly and affordably as possible using the MRT network. We will discuss whether you can visit Singapore's best attractions during the same day as a visit here.  It's located well north of Singapore's main business and tourism district, so using the MRT to get there will save you cash by avoiding taxi fees and ride-sharing expenses.
The three most important things to remember when heading to Grantral Mall are
What's the closest and most convenient station?
Which hotels should you stay at near an MRT station and which MRT line(s) should you take to get there?
What transport cards are available for this trip if you're visiting from abroad or staying in Singapore for a long time?
We will provide a step-by-step overview and additional information about visiting Grantral Mall below. 
A few other silver linings of getting there via MRT include avoiding parking headaches and costs and reducing gas emissions.
---
Shopping at Grantral Mall in Singapore
Grantral Mall is the retail component of a complex in MacPherson, Singapore. It provides convenient shops and services for residents of the MacPherson estate and Bidadari estate. 
When you visit Grantral Mall, you can shop for groceries in the massive store or enjoy an affordable meal in the popular food court. The design features lots of additional space for lifestyle activities. Expect to find lots of restaurants, cafes and enrichment centres here. 
Parking is available for guests, and the mall is within convenient distance of Singapore's world-class MRT network. 
---
Getting to Grantral Mall using MRT
Step 1: Map out your route – Identify the appropriate MRT Lines and Stations. 
Before your trip to Grantral Mall, check where the closest station is on the MRT map. 
Determine if you need to transfer lines using the station information below. 
The closest and most convenient station for getting to Grantral Mall is
Tai Seng Station (CC11)
Tai Seng Station is located along the Circle Line. It is shown in orange colour on Singapore's MRT network.
---
Step 2: Purchase a transport card to reach Grantral Mall via MRT.
You can select from two main types of transportation cards to reach Grantral Mall in Singapore:
Stored Value Cards 
As their name implies, Singapore Tourist Passes are designed for people visiting the city from abroad.  
These passes are popular amongst visitors because you can use them for unlimited bus and train rides over the course of 3 days or less. 
The big catch is travelling frequently over a short period of time with a Tourist Pass. If you only travel on the metro or buses a few times, then you might opt for a Stored Value Card. 
We highly recommend getting a Multiple Attraction Pass to use along with the Tourist Pass. When you buy multiple tickets at the same time, you can save up to 52% in discounts. At this point in time, over 200,000 of these have been purchased online.
Stored Value Cards are suitable for all commuters, foreigners, and locals included.  
After each bus, LRT or MRT ride, your cash balance on the card will be updated according to the trip fare. 
All you need to do is make sure that your balance on the card is sufficient for your planned trips. If not, just top it up, and you will be ready!
We used a stored-value card while figuring out how to get to Grantral Mall by MRT. 
---
Step 3: Walk to the nearest MRT station in the city. 
Try booking a room near an MRT station while you are in Singapore. 
A convenient hotel or hostel in the city will save you money associated with taxis, ride-hailing services, and, of course, parking!
Try to book a place to stay that is 500 m or less from a convenient station. You will avoid long walks in Singapore's intense heat and heavy rain.
You might want to try your search with the two properties below based on their proximity to stations and high review scores:
Marina Bay Sands Hotel (right beside Bayfront Station)
The Fullerton Hotel (right beside Raffles Place Station)
Marina Bay Sands is renowned throughout Asia for its amazing architectural design and breathtaking sky pool views. 
The Fullerton Hotel is located on beautiful Boat Quay, which is just a few minutes walking distance from Marina Bay and Clarke Quay.
We recommend staying in Chinatown if you want direct access to the MRT network while saving some cash. It's has tons of boutique hotels and hostels within walking distance of the MRT. 
---
Step 4: Ride the MRT to Grantral Mall.
Get on the train and begin your MRT trip to Grantral Mall.
If you are not starting on the Circle Line, check which interchange station you can use to access it. 
Then, once you are set, ride the MRT to Tai Seng Station (CC11).  
---
Step 5: Alight at Tai Seng Station (CC11).
You can refer to the MRT map on the way to Tai Seng Station.
Move closer to an exit as you hear relevant announcements about Tai Seng Station. 
Alight when you arrive at Tai Seng Station. 
Double-check that you have everything before you get off.
---
Step 6: Navigate Tai Seng Station to find the best exit. 
Upon arrival at Tai Seng Station, the faster you can find the best exit for accessing Grantral Mall, the better!
Refer to the information below to navigate from the train platforms to the appropriate exit.
---
Exiting Tai Seng Station
Tai Seng Station (CC11) is built underground, below Upper Paya Lebar Road, close to the intersection of MacPherson Road and Airport Road.
It has 3 main levels you should be familiar with
---
Level 1 – Street Level
B1 – Ticketing Concourse
B2 – Circle Line Train Platforms A and B
You will arrive at the B2 Circle Line train platforms on your way to Grantral Mall.
Travel up to Street Level using the stairs, escalators or elevators.
Tai Seng Station has three exits, A, B and C.
Exits A and B lead to the street level, whereas Exit C is underground and leads directly to 18 Tai Seng.
Take Exit B at Tai Seng Station to access Grantral Mall.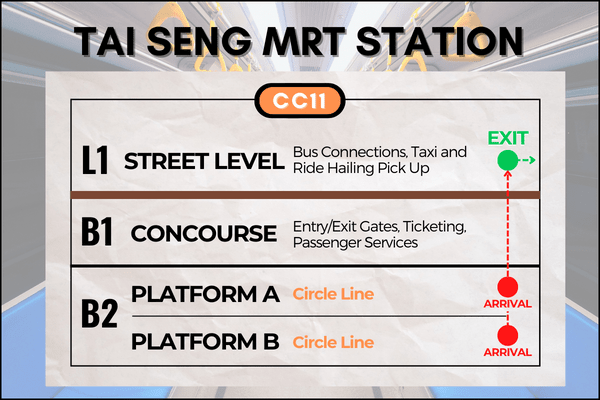 ---
Step 7: Walk directly from Tai Seng Station (CC11) to Grantral Mall
.
Exit B at Grantral Mall will bring you out to the corner of Harper Road and Upper Paya Lebar Road. 
From there, walk west on Harper Road toward Playfair Road.
Turn left onto Playfair Road.
Continue south along Playfair Road until you see Grantral Mall on your left. 
Enter Grantral Mall using the western entrance along Playfair Road. 
---
How long is the walk from Tai Seng Station (CC11) to Grantral Mall?
The walk from Tai Seng Station to Grantral Mall should take you about 4 minutes. 
Grantral Mall is only about 300 meters southwest of Tai Seng Station. The walk is very straightforward.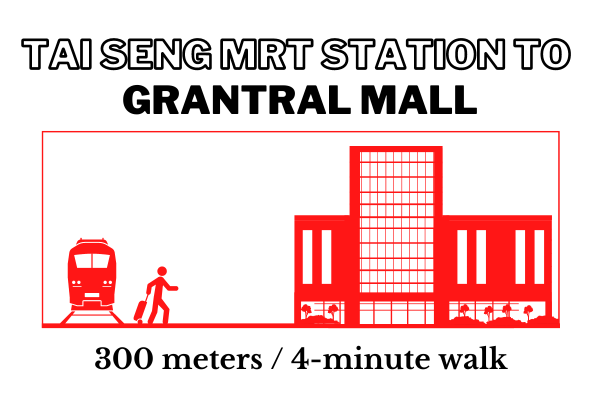 ---
---
Other Places to Explore During the Same Day
There are several small business buildings, residential complexes, athletic facilities and some shopping centres a short drive away from Grantral Mall in Singapore.
You won't find too many major tourist attractions in this area. 
The closest shopping to Gantrall Mall is 18 Tai Seng (Info and Directions).
There is direct access linking 18 Tai Seng to the MRT station, and it's only a few minutes walk from Grantral Mall.  
You can also check out these two shopping centres:
The Woodleigh Mall (Info and Directions)
The Poiz Centre (Info and Directions)
Air Force Museum which is located along the southwest corner of Paya Lebar Air Base. You can check it out on the same day at Grantral Mall. 
---
Where should you stay? Best Accommodation
You won't find too many hotels or hostels directly beside Grantral Mall. 
Most properties are closer to popular tourist areas, such as Chinatown and Marina Bay, which are further south.
There is, however, one hotel that isn't too far from Grantral Mall:
ibis Styles Singapore On Macpherson
This is a good place to stay to save some cash while having access to the northeastern areas of the city. 
All you have to do is walk or drive west from Grantral Mall along MacPherson Road. 
You will reach ibis Styles in only a few minutes. 
---
Conclusion
Hopefully, you now know how to get to Grantral Mall by MRT in Singapore, saving time and money. 
The stations and lines involved are the main things you need to remember when getting there. 
First, make sure that you transfer to the Circle Line, which is shown in orange on MRT maps throughout the city. 
Then, ride the Circle Line all the way to Tai Seng Station (CC11). It is the eleventh station on this line. 
Once you are there, find Exit B and then walk to Grantral Mall.
The walk should only take you 4 minutes to cover the 300 meters.