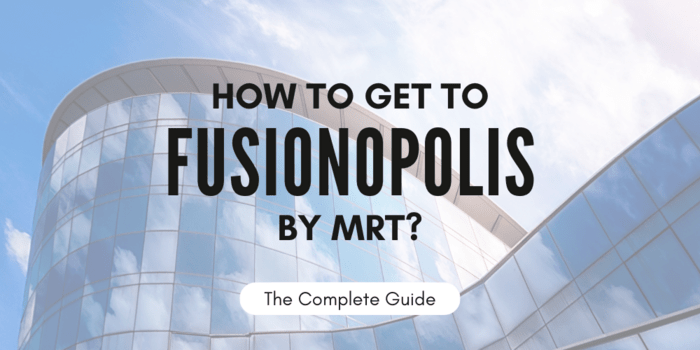 Get to Fusionopolis fast and worry-free with this comprehensive article!
If you're wondering how to get to Fusionopolis by MRT in Singapore, here is our complete, step-by-step guide. 
Getting to Fusionopolis via MRT is a practical idea for several reasons. 
First of all, you will completely bypass all headaches and fees associated with parking a vehicle when you arrive. 
Secondly, you don't have to worry about getting stuck in traffic along the way. Fusionopolis is northwest of the city centre. You can take the MRT there without thinking about rush hour traffic.
And let's not forget about saving money. 
Singapore's MRT network is extensive, servicing most city areas. You can get all over the place by spending only a small fraction of what a private vehicle costs. Once you arrive at the closest MRT station, you don't need to connect with a bus, taxi or a ride-hailing service. 
---
Visiting Fusionopolis in Singapore
Fusionopolis is best described as an integrated research and development complex. It is situated in the one-north business park (Buona Vista) that is northwest of the city centre. 
Since it's an integrated complex, you can expect a wide range of companies, research organizations, high-tech brands and a healthy mix of shops and eateries.  
Lots of people work and do business in the Fusionopolis complex. Therefore, restaurants, bars, and service centres make this area feel like a commercial district. The food court is located in the basement level of Fusionopolis, conveniently where the MRT station links. 
As you will learn below, the MRT is so well connected to Fusionopolis that you don't even need to step outside to access the commercial complex!
---
Getting to Fusionopolis via MRT
Step 1: Plan your trip – lines and stations. 
 The best station for getting to Fusionopolis by MRT is
one-north Station (CC23)
As you can see, the station short code shows one-north Station (CC23) is on the Circle Line. 
The Circle Line is shown in Orange Colour on Singapore's MRT map.  
---
Step 2: Buy a metro card to reach Fusionopolis.
When travelling to Fusionopolis via MRT, you have two main transportation cards to choose from:
Stored Value Cards 
Investing in a Tourist Pass is an economical alternative for those looking to travel around Singapore. 
Once you buy one, you can enjoy unlimited bus and train rides, a great alternative for those expecting to get around a lot over the course of three days. 
Alternatively, Stored Value Cards can be the ideal solution if one is not likely to use the MRT services as much. 
These do not provide unlimited trips, but the fare for each ride is simply deducted from the balance when you leave the public transport system (buses, MRT, LRT). 
Tourist Passes are only available for foreign visitors to Singapore, whereas any person can use Stored Value Cards.
We used a stored value card while discovering how to get to Fusionopolis by MRT. 
---
Step 3: Find the closest MRT station, and tap your card to enter the network.
Booking a room near a Mass Rapid Transit (MRT) station in Singapore provides convenience and cost savings. 
Hotels and hostels are built close to these stations so travellers can enjoy the benefits of easy access to public transportation. 
If you want to avoid the hassle of parking and traffic, staying in one of these nearby locations is an ideal solution.
Marina Bay Sands Hotel (right beside Bayfront Station)
The Fullerton Hotel (right beside Raffles Place Station)
Marina Bay Sands is renowned across Asia. The Fullerton Hotel is situated right on scenic Boat Quay.
It is recommended to remain in Marina Bay if you have the financial means. 
The sights are awe-inspiring, and it has several handy MRT connections. 
Conversely, hotels in Chinatown or Bugis may be more suitable for you if you're on a restricted budget.
---
Step 4: Complete any transfers and take the MRT to one-north Station (CC23).
Make any necessary transfers to the Circle (Orange) Line. 
Travel all the way to one-north Station. 
Expect to hear verbal announcements on the train as you approach the station.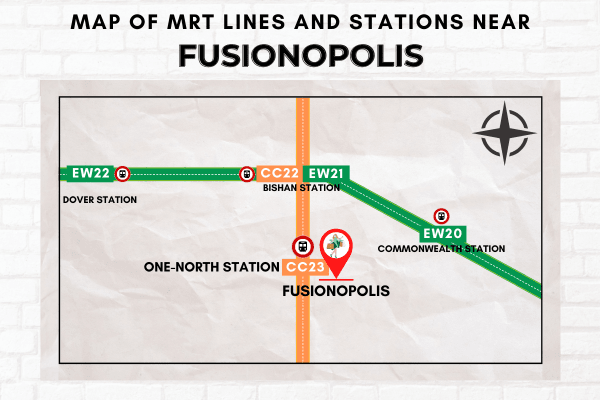 ---
Step 5: Alight upon arrival at one-north Station (CC23).
Buona Vista and Kent Ridge are the two neighbouring stations to one-north.
Move closer to an exit when you stop at one of these. 
Alight when you arrive at one-north Station.
Bring all your belongings with you. 
---
Step 6: Travel from the Circle Line train platform to the best exit.
Getting to Fusionopolis is much easier when you can get from the train platforms to the best exit. 
Here are the exit directions below!
---
Exiting one-north Station (CC23)
one-north MRT Station (CC23) is built underground within the one-north business park.
The station has three main levels that you should be familiar with:
L1 –  Street Level (ground floor)
B2 – Ticketing and Retail Shops
B3 – Circle Line Train Platforms A and B
You will get off the train at Level B3 regardless of which direction you are arriving on the Circle Line. 
Travel up to B2 using the stairs, escalators or elevators.  
one-north MRT station has a total of 4 exits to choose from, A, B, C and D. 
Exit A and B service ground-level connections. Exit C links to Basement 2 of Fusionopolis One. Escalator Exit D directly connects to the street level at Galaxis.
Take Exit C at one-north Station to directly access Fusionopolis.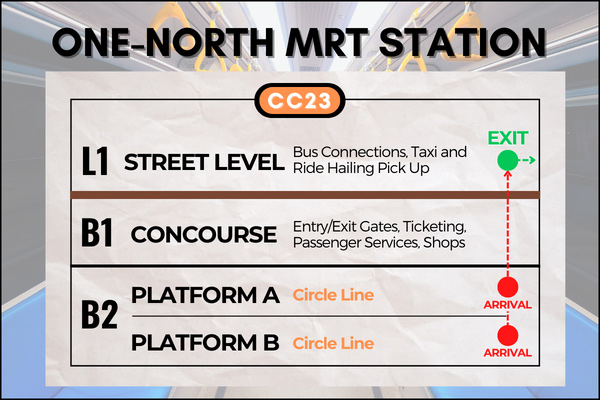 ---
Step 7: Walk from one-north Station to Fusionopolis.
Technically, the concourse area on Level B2 of one-north Station is fully integrated with Fusionopolis. 
So the main thing here is finding Exit C. You will be in the basement of Fusionopolis when you exit the MRT network. 
---
How long is the walk from one-north Station to Fusionopolis?
With the basement of the Fusionopolis complex directly integrated with one-north MRT station, you can expect a very short walk. 
It should take you 1-2 minutes from the train platforms to Fusionopolis.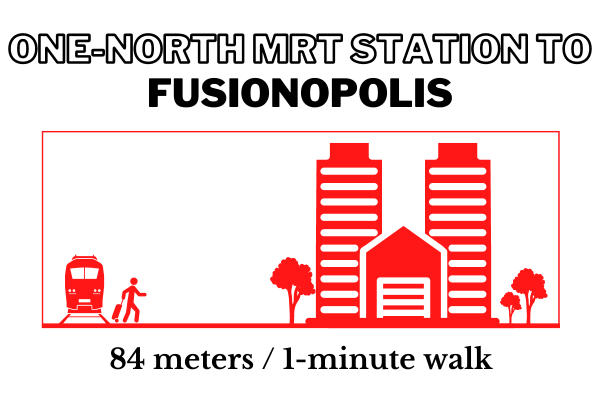 ---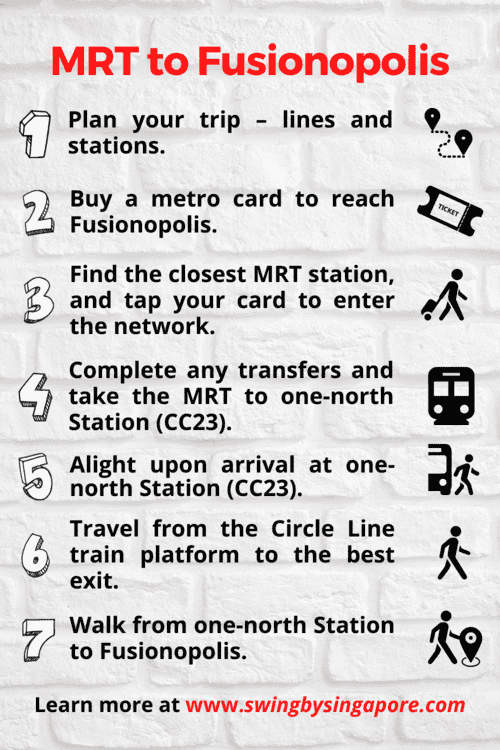 ---
Other Places to Visit During the Same Day
Fusionopolis consists of several corporate buildings focusing on research and innovation. 
Several shops, services and places to eat are scattered throughout the different buildings here. 
If you are looking for delicious food at affordable prices, you can head south from Fusionopolis to Timbre+ One North. Expect hawker dishes in a vibrant environment. 
Looking for some fresh air?
If you are at Fusionopolis, you can walk a few minutes east to one-north Park: Fusionopolis South. 
It's a lovely park tucked between One North and Buona Vista MRT stations. It is lush green, beautifully landscaped, clean and very well-maintained.
Two of the closest shopping centres relative to Fusionopolis are:
The Star Vista (Info and Directions)
Rochester Mall
The Star Vista has a popular 5,000-seat theatre that routinely hosts local and international concerts. It features an awesome alfresco dining environment and an open concept. 
---
Best Places to Stay
Fusionopolis is well outside Marina Bay and Singapore's main central business district. Consequently, there aren't as many properties in this area. 
But, there are lots of businesses scattered around one-north Station. It's common for business people to stay at one of the hotels near Fusionopolis. 
There are three places to stay within walking distance of Fusionopolis:
Citadines Fusionopolis Singapore (4-star)
lyf one-north Singapore (4-star)
Shipping Container Hotel @ one-north
Staying at any one of these properties will ensure easy access to one-north MRT Station and all the businesses within Fusionopolis. 
---
Conclusion
You hopefully know how to get to Fusionopolis by MRT in Singapore! 
Using MRT around to get around Singapore is super convenient, and Fusionopolis is no exception!
The main thing you must remember is that you will have to transfer to the Circle Line, shown in orange on the metro map. 
Then, take the Circle Line all the way to one-north Station (CC23). 
Once you are off the train at one-north Station, head up to Basement 2, and use exit C. The station is directly connected to Fusionopolis, making it a very smooth connection. 
No bus or taxi services are required. 
There are several offices and research centres throughout the Fusionopolis complex that you can walk to once you're out of the MRT station.