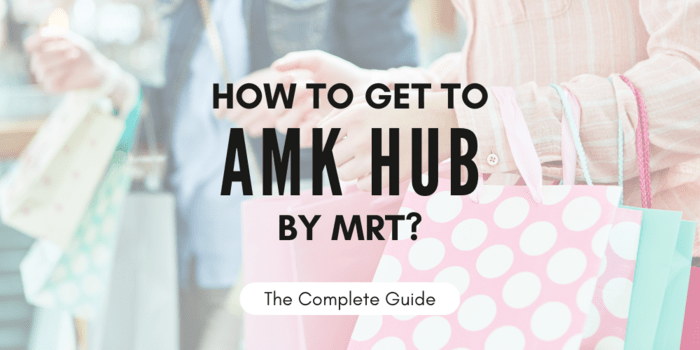 Get to AMK Hub in Singapore fast and worry-free with this step-by-step guide!
Welcome to our guide on how to get to AMK Hub by MRT in Singapore.
Even though AMK Hub is well north of the city centre, it's relatively easy to access via the MRT network. Once you know which line to take and the closest station, the walk is super easy without even stepping outside. 
Getting to AMK Hub via MRT also is easy on your wallet. It's affordable because you don't have to pay for a taxi or ride-sharing service, and parking fees are immediately eliminated from your expenses.
By the end of this article, you will know every step to get there as fast and affordably as possible! 
---
Shopping at AMK Hub in Singapore
AMK Hub is a popular shopping mall in the North-East Region of Singapore. It officially opened in 207 and features approximately 33,000 m2 of retail space. In case you are wondering, AMK stands for Ang Mo Kio, the area in which the mall is located. 
It has a hypermarket, a seamlessly integrated bus interchange, lots of restaurants and cafes, a cinema, and over 100 specialty shops and services. Expect to find seven mall levels and parking on-site.
Once you arrive at AMK Hub, be prepared to enjoy free wifi services throughout the mall. Nursery rooms are available if you have children. A convenient customer service counter is located at Level 2. 
If you are driving to AMK Hub, you can choose from 415 parking spaces. Postal services and ATM machines are also available in the mall for your convenience.
One of the benefits of taking the MRT to AMK Hub is that you don't even have to step outside to access it from the network. We will explain all the steps below! 
---
Getting to AMK Hub via MRT
Step 1: Plan your trip to the mall – the best station and line.
 The best station for getting to AMK Hub via MRT is 
Ang Mo Kio (NS16)
You will find Ang Mo Kio Station (NS16) on the North-South Line, which is shown in red colour on the metro map. 
---
Step 2: Purchase a transport card to reach AMK Hub.
Consider using one of these transportation cards when travelling to AMK using the MRT network:
Stored Value Cards 
As their name suggests, Tourist Pass offers a great way to save money for visitors to Singapore. You can get unlimited bus and train rides with one of these.  
But you can save a lot of cash if you plan on travelling a lot over the course of three days. If you are not using the MRT often, you might save with a stored value card.
We used a stored value card while discovering how to get to AMK Hub by MRT. 
These cards don't offer unlimited trips. Instead, the price of each trip is deducted from your balance when you exit the public transportation network (buses, MRT, LRT).
---
Step 3: Access the closest MRT station.
Locating a hotel close to an MRT station is a great idea for those who are visiting Singapore and looking to save time and money. 
The MRT network allows people to travel without worrying about costly parking fees, traffic, and emissions from vehicles. 
Additionally, several hotels and hostels are located close to stations, making reaching popular destinations such as AMK HUB convenient. 
Two highly acclaimed hotels for their outstanding service and proximity to stations are:
Marina Bay Sands Hotel (right beside Bayfront Station)
Fullerton Hotel (right beside Raffles Place Station)
It is advised to stay in Marina Bay if your budget allows for it! The panoramas are breathtaking, and it has a convenient MRT link. 
On the other hand, if you are budget-minded, hotels in Chinatown may be more suitable for you.
---
Step 4: Ride the MRT to Ang Mo Kio Station (NS16).
If you want to access AMK Hub via MRT, follow the route map to Ang Mo Kio Station (NS16) 
Look at where you are starting your trip on the MRT map. 
If you're not staying at a hotel along the North-South Line (Red), then find the best interchange station to access it.
Expect to hear verbal announcements on the train as you approach the station.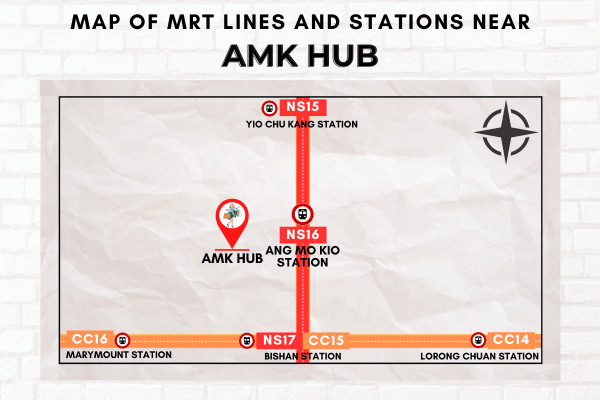 ---
Step 5: Get off at Ang Mo Kio Station (NS16).
Alight upon arrival at Ang Mo Kio Station (NS16).
Always check that you are not leaving something on the train before getting off!
---
Step 6: Travel from the station platform to the best exit for walking to AMK Hub.
The section below summarizes how to get from the train platforms at Ang Mo Kio Station (NS16) to the best station for accessing AMK Hub by foot.
---
Exiting Ang Mo Kio Station (NS16)
Ang Mo Kio MRT Station (NS16) is located within the Cheng San near the junction of Ang Mo Kio Avenue 8 and Ang Mo Kio Avenue 3. It is built above ground. 
It has three main levels:
L2 – North-South Line Train Platforms A and B
L1 –  Concourse and Ticketing
B1 – Underpass
You will get off the train at Level 2 of Ang Mo Kio Station. 
You can take the elevator, escalator or stairs down to B1 from there.  
Ang Mo Kio MRT station has four exits to choose from, A, B, C, and D. 
Exits A, B and D are located at the ground level.
 Exit C links to the basement of AMK Hub via an underpass. 
Take Exit C to access AMK Hub directly from Ang Mo Kio Station (NS16).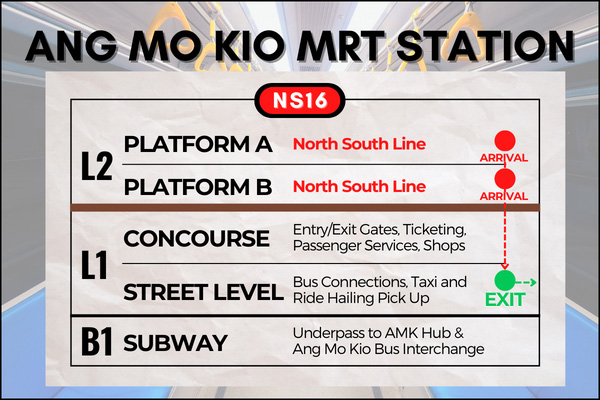 ---
Step 7: Walk directly from Ang Mo Kio Station (NS16) to AMK Hub.
After taking Exit C at Ang Mo Kio Station, you shouldn't have any problem getting to AMK Hub. 
Exit C will lead you through an underground underpass on Level B1 straight to AMK Hub.
---
How long is the walk from Ang Mo Kio Station (NS16) to AMK Hub?
You can expect the walk from Ang Mo Kio Station to AMK Hub to be super fast and straightforward. 
The walk is about 2 minutes and around 200 meters.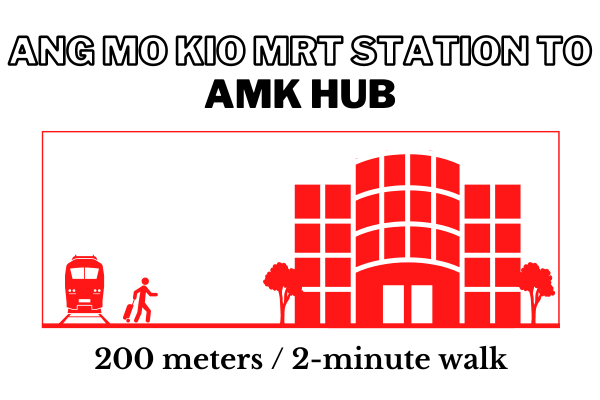 ---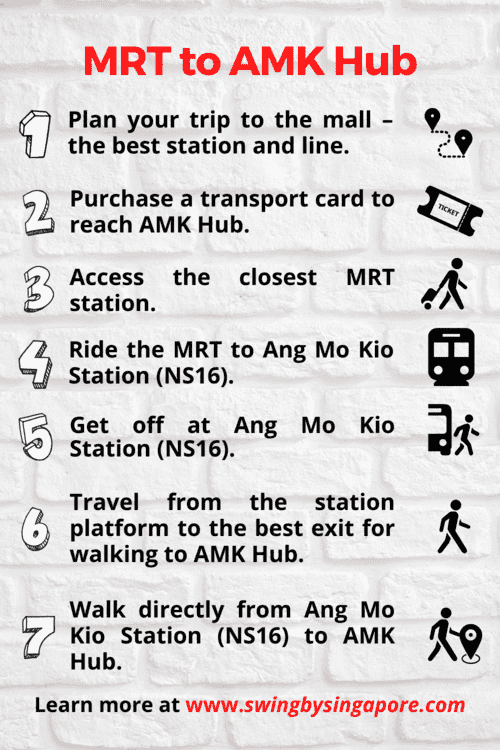 ---
What else is near the mall?
AMK Hub is in a super convenient location relative to Ang Mo Kio Station. It is physically connected to the mall using the underpass. 
Once you are at AMK Hub, other shopping malls and parks can be explored here. 
For example, only a minute or two north of AMK Hub, you will find
Jubilee Square
Broadway Plaza
Djistun Mall
You can easily walk between all these shopping centres on the same day. 
The best green space in this area is located directly east of Ang Mo Kio Station and only a few minutes from AMK Hub – Ang Mo Kio Town Garden East. 
It features a loop path that is popular for walking and jogging. Many benches and lawns are shaded by rubber trees, making ideal spots for hanging out. You can also check out Ang Mo Kio Town Garden West for more exercise.
Ang Mo Kio Central Market & Food Centre is one of the best spots around AMK Hub for sampling local hawker foods. It is directly west of Broadway Plaza and northwest of Jubilee Square. 
 Courts Ang Mo Kio is a popular electronics store which is north of Broadway Plaza. 
---
What's the best place to stay near AMK Hub?
AMK Hub and the surrounding area are popular for shopping and eating out. But this area is quite far from the main sightseeing areas in the city centre. Therefore, you won't find too many hotels here. 
Chances are you will have to travel south to get a better selection of hotels to choose from. 
You can either check out rooms along Balestier Road, north of Tan Tock Seng Hospital (Directions) or in Kovan. 
Stationing yourself along Balestier Road is practical if you want to be north of the city centre but still close enough to points of interest like AMK Hub. 
Expect to find reasonable prices for rooms along Balestier Road since most are classified as 2, 3 or 4-star properties. 
You might want to start looking at these properties first:
Ramada by Wyndham Singapore at Zhongshan Park (4-star)
Ibis Singapore Novena (3-star)
Fragrance Hotel – Oasis (2-star)
If you choose to stay southeast in Kovan, check out Hotel 81 Kovan or Fragrance Hotel – Kovan. These are both affordable properties. 
---
Conclusion
Hopefully, you now know how to get to AMK Hub by MRT in Singapore. 
The main two things you need to remember about getting there are that the closest station is called Ang Mo Kio Station (NS16), and the line for getting there is the North-South Line. 
The North-South Line is red colour on the metro map. 
Once you arrive at Ang Mo Kio Station, head to Level B1 and use the underground underpass to access the basement of AMK Hub. 
The walk is very short and straightforward. 
Once you are at AMK Hub, spend the day in the area, exploring other shopping malls, outdoor parks and delicious hawker meals at nearby food centres.