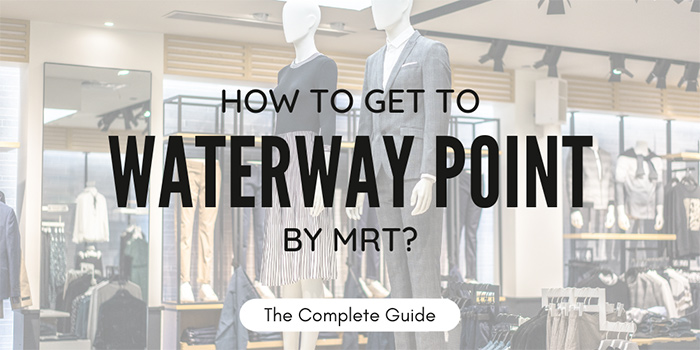 Get to Waterway Point in Punggol super fast and affordably with this step-by-step guide!
Welcome to the complete guide on how to get to Waterway Point by MRT. This article will explain all the specific steps to get to this popular shopping mall in Punggol Singapore using Singapore's extensive MRT network. 
While writing this article, we wanted to prioritize getting you to Waterway Point fast, affordably with no complications along the way. 
Aside from outlining how to get there, we will also answer the following essential questions for you:
What is the best MRT station for walking directly to Waterway Point?
Which MRT line(s) should you use to get there? 
What kind of public transportation tickets can you use to get there?
Are there other places to visit around Waterway Point worth checking out?
Where should you stay in Punggol – accommodation options?
First, we will outline important information about Waterway Point Shopping Centre in Singapore and outline how to get there.
---
Shopping at Waterway Point in Singapore
Waterway Point is a popular four-storey shopping mall and lifestyle hub in Punggol, Singapore. It officially opened on 19 April 2016 and it has a total of 50,399.2 m2 of gross floor area and has 34,450.7 m2 of retail space spread over four levels.
One of the coolest things about visiting Waterway Point is that it provides a massive selection of stores and restaurants and has lifestyle areas available to guests. It offers various dining, fashion, entertainment and amenities for the suburban residents of Punggol and other families living in Singapore. It is separated into an East Wing and West Wing, and they are connected by a 24-hour walkway called "The Boardwalk". 
Punggol Waterway Park is also connected to the mall via The Boardwalk.  You can also check out various indoor and outdoor themed spaces throughout the mall, which are used for exhibitions and recreational activities.
Waterway Point is very popular with families. 
It features various educational learning centres, bookstores and areas for children to play and interact. You can bring your kids to the dry and wet playground on the mall's second floor. Furthermore, families enjoy walking along The Boardwalk to capture waterfront views and The Plaza – one of the outdoor-themed spaces facing the waterway at the mall.
---
Getting to Waterway Point by MRT
Step 1: Walk to the most convenient station.
Your trip to Waterway Point in Singapore will be much faster if you stay close to an MRT in the city. Singaporeans and permanent residents likely already have an MRT station that they are accustomed to taking.  
But if you are visiting from abroad, staying at a hotel right near a station is important. You will get to Waterway Point much faster and save money along the way if you don't have to get a taxi to reach the nearest station. Parking fees and spending time in traffic are additional variables you must consider when booking a place to stay. 
Here are three quick suggestions on places to stay that are within walking distance of convenient stations:
Luxury
Marina Bay Sands (5-star, 9.0/10 review score, close to Bayfront Station) 
Mid Range
Hotel Bencoolen @ Hong Kong Street (4-star, 8.3/10 review score, very close to Clarke Quay Station)
Budget
Chic Capsule Otel (2-star, 8.5/10 review score, very close to Chinatown Station)
Always double-check the location and proximity to stations if you plan on planning your itinerary around using Singapore's MRT. Once you book your room, it's time to make your way to Waterway Point in Punggol. 
---
Step 2: Plan out MRT lines and transfers to reach Waterway Point.
Getting to Waterway Point is super easy via MRT, but you need to see where you are starting your trip and which transfers you have to make along the way.
To help plan your trip, read the section below. We will summarize station, line and transfer information so that you know where you are going before you begin your trip!
Stations, Lines and Transfer Info – Waterway Point MRT 
Closest Stations to Waterway Point in Singapore
The most convenient station for walking to Waterway Point is Punggol MRT Station. There are a few other stations within a few kilometres of the mall, but they aren't even close to as convenient as Punggol. 
Line Information to  Waterway Point
Punggol Station (NE-17/PTC) is located on the North-East MRT Lin, shown in purple on Singapore's metro map.
It is also part of Singapore's LRT network. The Punggol LRT is shown in grey colour on the metro map, and services local residents. 
Punggol Station is only about 100 metres southeast of Waterway Point. Therefore, once you make it to the station it's super easy to walk directly to the shopping mall and recreational venues.  
Transfers
To get to Punggol Station (NE-17/PTC), you will have to access North-East Line. For many commuters, this means you will have to complete 1 or more transfers along the way (depending on where your point of origin is). 
Some popular transfer stations include:
Serangoon (transfers between the North-East and Circle Line)
Little India (transfers between the North-East and Downtown Line)
Dhoby Ghaut (transfers between the North-South, North-East and Downtown Lines)
Plan out your route to Waterway Point in advance, including necessary transfers!
---
Step 3: Purchase either a ticket or a card for your trip.
There are several tickets/cards available to get to Waterway Point, and we classify them into three main categories:
1) Stored Value Cards
2) Singapore Tourist Passes 
3) Single/Multi-Trip Tickets
We used a stored value card while learning how to get to Waterway Point by MRT. Once you buy one with a cash balance you can use them interchangeably on both buses and trains throughout Singapore. These cards are popular with Singaporeans, permanent residents, and long-term visitors in the city. 
If you plan on using one, be sure to top it up before your trip to avoid unexpected delays!
Tourist Passes are popular with short-term foreign tourists in the city. If you are spending 1-3 days in Singapore with a busy itinerary, consider getting one of these. You won't save money getting one of these cards unless you plan on doing a lot of sightseeing over the course of your trip. 
You can also buy a single journey or multiple journey tickets to get to Waterway Point in Punggol. 
Watch out for long queues during peak times of the day such as rush hour!
---
Step 4: Ride the MRT to Punggol Station (NE-17/PTC), completing any transfers along the way.  
Complete any necessary transfers to the North-East Line to access Punggol Station (NE-17/PTC) and Waterway Point.
The station directly south of Punggol Station is Buangkok. Once you stop there, be prepared to get off at the next stop!
Alternatively, if you stay close to Waterway Point, you can travel along the Punggol LRT loop to access Punggol Station.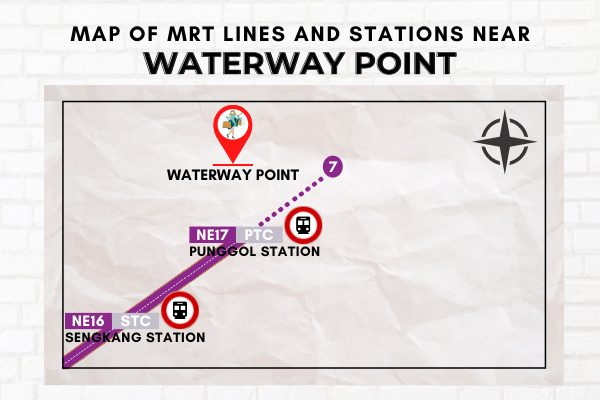 ---
Step 5: Alight at Punggol Station.
Get off the train at Punggol Station and begin looking for exit information right away.
---
Step 6: Exit Punggol Station. 
Punggol MRT station has four exits at ground level: A, B, C and D 
Since you're are heading to Waterway Point which is north of the station, head to the Northern Concourse. 
Take Exit A from Punggol Station to reach Waterway Point.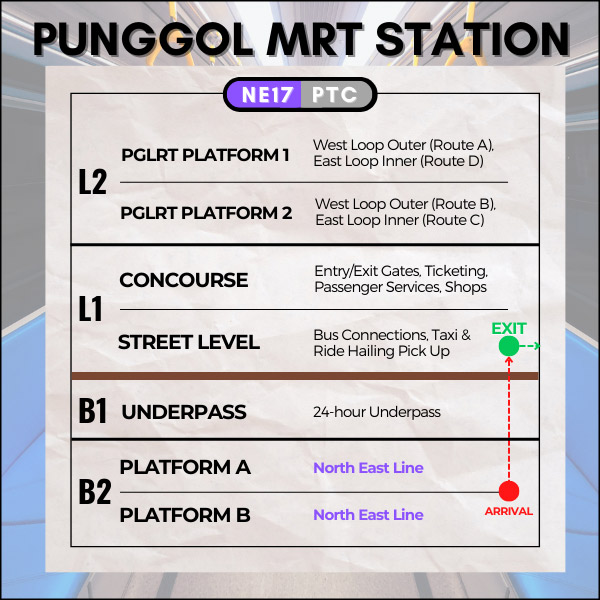 ---
Step 7: Walk from Punggol Station to Waterway Point.
Once you use Exit A you will immediately see the sign "Waterway Point: The BoardWalk". This is a 24-hour walkway that begins directly infront of the Exit A doors of Punggol Station. 
Walk through the 'The Boardwalk' for about 30 seconds and you will see entrances to both the East and West Wing Level 1 of Waterway Point shopping mall. 
---
How long does it take to walk from Punggol Station to Waterway Point?
You can expect the walk from Punggol Station to Waterway Point to take about 2 minutes.
In other words, the entrance to the mall is super close to the station. Don't bother bringing an umbrella because you can get right into the mall without getting wet or breaking a sweat in Singapore's intense heat.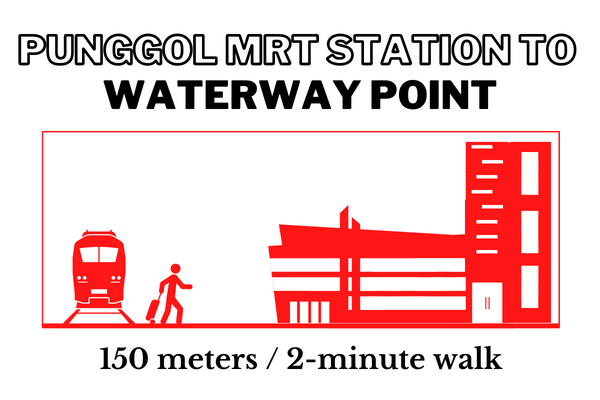 ---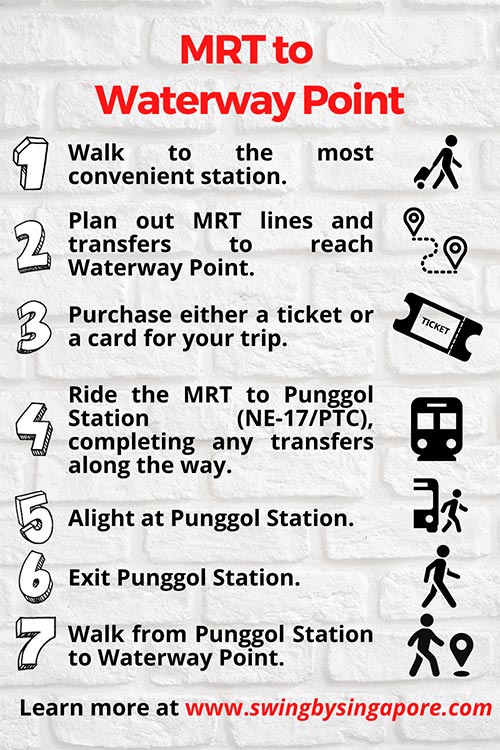 ---
Should you stay at a hotel near Waterway Point in Singapore?
When we completed a search for hotels and hostels of Punggol and the area around Waterway Point, we found very few properties available. 
Punggol is busy with residents, but few tourists stay here since it is north of major sightseeing areas such as Marina Bay, Chinatown, and Little India. 
You might want to stay near Little India. 
Staying here provides convenient access to both Punggol via the North-East MRT Line and Marina Bay to the south. Then you can just take the North-East Line north to Punggol Station and Waterway Point. 
A few of the most popular hotels near Little India Station include:
Citadines Rochor (4-star, 8.6/10 review score, 160+ reviews) 
Hilton Garden Inn Singapore Serangoon (4-star, 8.2/10, review score, 2400+ reviews)
If you don't want to near Little India, you can get additional hotel and location information with our comprehensive accommodation guide. Since accommodation is expensive in Singapore, be sure to take your time to select a property in a convenient location, close to a station.
---
Conclusion 
We genuinely hope that this article on how to get to Waterway Point by MRT will save you some time, money, and headaches!
Getting there via MRT is really easy once you get on the North-East MRT line. Just ride the train all the way north to Punggol Station. The walk from there to the mall is super fast!
Also, remember that a few other points of interest near Waterway Point in Punggol are worth checking out.  
Punggol Waterway Park and Splash @ Kidz Amaze are two popular attractions for families. You can walk to both of these directly from Punggol Station as well. 
If you want more shopping options, then head to Punggol Plaza or Oasis Terraces.  
Alternatively, you could take the MRT south to Compass One Mall that is directly beside Sengkang Station.  
Please share any other fun experiences in Punggol with us and we will add them to our list. 
We hope that you enjoy your time at Waterway Point in Singapore and please let us know if you have any questions about getting there!