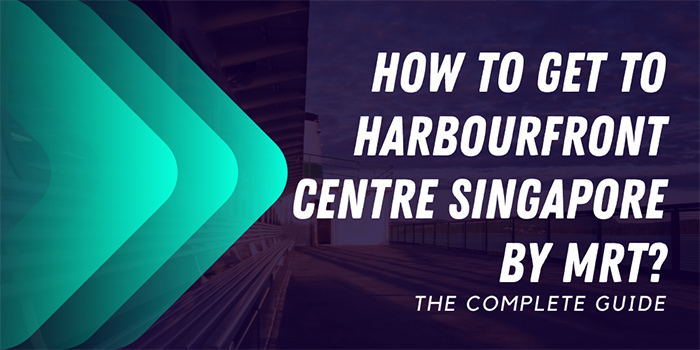 Get to HarbourFront Centre fast and affordably with this step-by-step guide!
Welcome to our comprehensive guide on how to get to HarbourFront Centre Singapore by MRT. After reading this detailed article, you should be able to reach HarbourFront Centre quickly and affordably without spending a lot of money! 
The city's extensive MRT network services HarbourFront Centre and almost every major attraction in Singapore. Therefore, you can take the MRT very close to the mall and then walk a short distance to your point of interest. Since Singapore Cruise Centre is physically attached to HarbourFront Centre and VivoCity Mall, this trip is very popular amongst Singaporeans, permanent residents and visitors in the city.  
By the end of this guide, you will know exactly where to stay and be able to create an excellent itinerary of surrounding attractions and shopping malls. Also, take note that HarbourFront Centre in Singapore is close to popular sightseeing areas such as Sentosa Island and the western green spaces like the Southern Ridges. 
---
HarbourFront Centre Singapore – Useful Information
HarbourFront Centre in Singapore is a dynamic, 3-storey shopping mall that is located within Singapore's scenic HarbourFront Precinct. It is physically connected to Singapore Cruise Centre, which services international cruise ship departures and arrivals. HarbourFront Centre is also strategically connected to VivoCity Mall – one of Singapore's largest shopping centres with tons of restaurants and internationally-branded stores. 
When you take the MRT to HarbourFront Centre, you can expect to find many restaurants and cafes that are popular with cruise passengers, shoppers, and business people working at neighbouring office towers. Even though HarbourFront Centre is not as large as VivoCity Mall (next door), it still has many stores selling fashion products, sporting equipment, travel products, electronic goods and a lot more! 
Aside from the international cruise terminals, you can also access ferries to Southern Indonesian Islands such as Batam. Sentosa Cable Car Station is located in HarbourFront Tower 2. It's common to see those passengers in HarbourFront Centre, buying food and other products before heading to Sentosa Island for some fun activities!
Due to its practical design and strategic location, HarbourFront Centre in Singapore is a great place to grab a meal or do some shopping while you are enjoying a day of sightseeing in the HarbourFront area. 
---
Specific Details – Getting to HarbourFront Centre Singapore by MRT
Step 1: Walk to the nearest MRT station.
Singapore, fortunately, has one of the best public transportation systems in all of Asia. Therefore, it's pretty easy to get to most city areas and a fast and affordable manner. Getting to HarbourFront Centre in Singapore is no exception!
If you are permanently living in Singapore, you likely already have a station close to where you are located that you're familiar with.  However, you should strategically book a hotel near an MRT station if you are visiting the city. Being 500 meters or less from an MRT station makes getting around much more convenient and affordable. You bypass unnecessary charges associated with taking taxis to the station every time you want to go somewhere. Singapore gets super hot, so try to limit your distance. 
Here are a few examples of famous hotels within only a few minutes of the stations listed below. They receive very positive review scores from verified guests on major accommodation booking sites:
Ascott Raffles Place (5-star) (very close to Raffles Place Station)
Conrad Centennial Singapore (5-star)(very close to Promenade Station)
Marina Bay Sands (5-star) (very close to Bayfront Station)
Once you booked your accommodation and are ready for your trip to HarbourFront Centre Singapore, walk to the nearest MRT station.
---
Step 2: Buy a card or ticket for your trip to the HarbourFront Centre Singapore.
If you are a Singaporean or a permanent resident, you likely already have a public transportation card that can be used for bus and MRT rides around the city. In this case, just make sure your card is loaded and ready for your trip to HarbourFront Centre.
If you are just visiting Singapore for a few days, then you will have to buy a new card (or use a suitable credit card) to get to HarbourFront Centre.
Based on our extensive experience getting around Singapore using the MRT, we suggest that you first answer these three questions (below) to see which card suits your travel preferences best:
Are you staying in Singapore for more or less than three days?
Are you just travelling to/from HarbourFront Centre or are you planning to see many other places throughout Singapore?
Do you want to spend time waiting in line at ticketing counters in MRT stations or is efficiency your priority?
Here are the two main types of MRT tickets/cards in Singapore to choose from:
Singapore Tourist Passes

Stored value cards
Singapore tourist passes are a great option if you stay in the city for three days or less. Foreign tourists love these passes because you don't have to worry about anything once the card is purchased. 
When you buy a Singapore Tourist Pass, you can enjoy unlimited MRT, LRT and bus rides. 
We highly recommend buying a Multiple Attraction Pass to use alongside your transport card. You can save up to 52% off entrance fees by booking online in advance. At the time of writing, already over 200,000 of these have been purchased online!!
While making your way to HarbourFront Centre, you can use any combination of bus and MRT. Usually, they are available for one to three-day periods. If you have an action-packed itinerary in Singapore, we strongly suggest that you should buy one!
Read More: How to buy Singapore Tourist Passes – The Complete Guide
Additional Options
Another solid option is buying a 'stored-value card'. You might want to get one of these if you are in Singapore for more than three days and plan on using public transportation to get around. Picture these as a 'top-up' and 'go' type of card. 
 We used a stored value card while figuring out how to get to HarbourFront Centre Singapore by MRT. Make sure that you always have a 5-dollar buffer to ensure that you don't suddenly have to wait in line to reload your card unexpectedly!
---
Step 3: Plan on travelling to HarbourFront Station. 
It's straightforward to remember the closest station to HarbourFront Centre in Singapore because they are both named after the same area. 
So, when you are going to HarbourFront Centre, plan on travelling to HarbourFront Station.
You should be able to find an MRT map in the first station that you enter.  
---
Step 4: Travel on the MRT to HarbourFront Station. 
If you haven't been to HarbourFront Centre before, it's essential to know what lines you can use to get there!
HarbourFront Station (CC29/NE1) is located on the two following lines in Singapore:
North-East Line – represented in purple on the public transportation map.
Circle Line – shown in orange on the network map.  
Take note that currently, there is construction underway to connect HarbourFront Station to Marina Bay Station. But, for the time being, most travellers staying in downtown Singapore will stop at Outram Park Station directly before HarbourFront. 
Once you stop at Outram Park, move closer to an exit and get your personal belongings ready.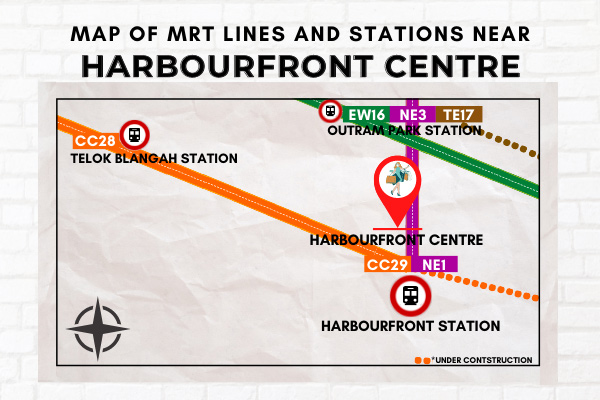 ---
Step 5: Alight at HarbourFront Station.
When the train approaches HarbourFront Station, walk to the closest exit and alight.
---
Step 6: Exit HarbourFront Station and walk to HarbourFront Centre.
You will have the choice of five exits when you are ready to exit HarbourFront Station en route to HarbourFront Centre:
A, B, C, D, E
Exits A, B, C and D all offer ground-level access, whereas exit E is an underground exit leading to Basement 2 of the VivoCity Shopping Mall.
Take Exit B at HarbourFront Station to walk to HarbourFront Centre.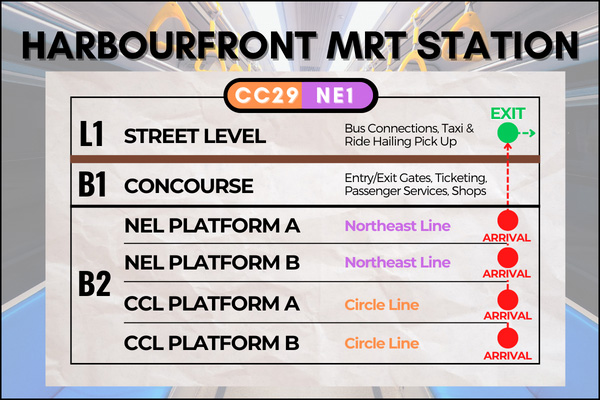 Walking directions from HarbourFront Station to HarbourFront Centre:
When you exit the station, it's effortless to get to HarbourFront Centre using the underground walkway.
Follow the signs to HarbourFront Centre from the station, and you will eventually reach the Ground Level of the mall. 
Enter the mall, turn left, and you will be already right in the heart of HarbourFront Centre. There are popular restaurants such as Starbucks and McDonalds on this level of the mall.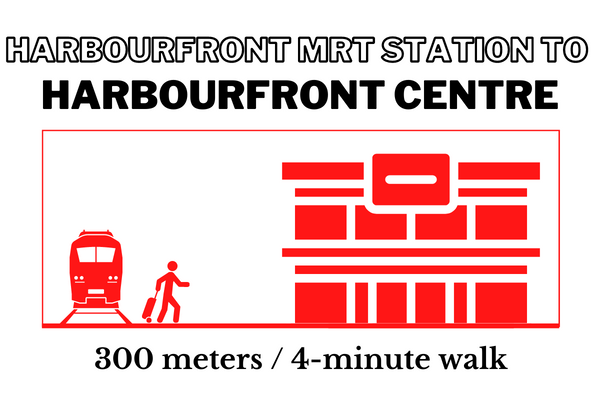 ---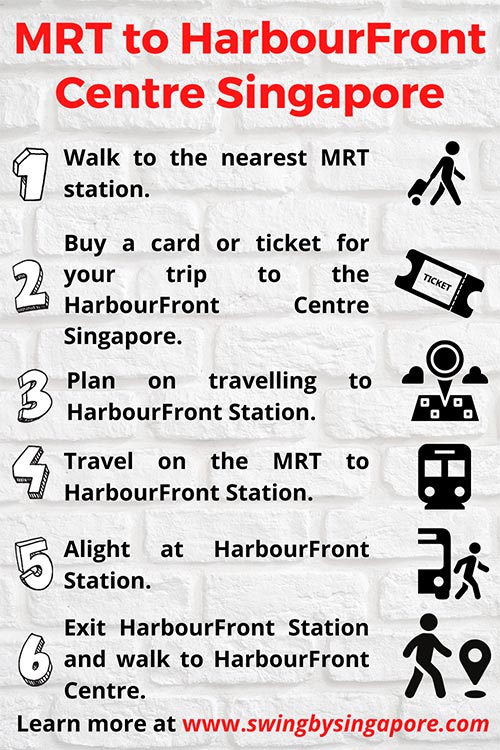 ---
How long does it take to walk from HarbourFront Station to HarbourFront Centre?
You can expect the walk from HarbourFront Station to HarbourFront Centre to take about 3-5 minutes (depending on your walking speed). 
---
Should you stay at a hotel near HarbourFront Centre in Singapore or stay elsewhere?
Staying close to HarbourFront Centre can be a wise decision if you take a cruise or head south from the ferry terminal to one of the Indonesian Islands.  
There are few hotels directly around the mall. Most of the hotels in this corner of Singapore are located on Sentosa Island. 
Travelodge HarbourFront Singapore (4-star, 7.9/10 review score based on 1100+ reviews) is the closest hotel on the mainland of Singapore to HarbourFront Centre. It is pretty affordable and receives pretty good reviews from verified guests. 
If you don't want to stay on Sentosa Island, then Chinatown is an excellent alternative. Rooms are cheaper here than Sentosa Island, and it is strategically located. All you need to do is head two stations south from Chinatown Station along the North-East line to reach HarbourFront. Chinatown is known as one of the city's coolest areas for markets, eating and shopping. 
Read More: Singapore Accommodation Guide – Find the Best Places to Stay, Now…
---
Conclusion – Getting to HarbourFront Centre Singapore by MRT.
We hope that this step-by-step guide on how to get to HarbourFront Centre Singapore by MRT has been beneficial. Ideally, we want to help get you there fast and affordably!!
You can expect HarbourFront Centre to get busy on some days because of its convenient connection to the Singapore Cruise Centre and ferry terminal. If a cruise is departing or arriving, the mall fills up with more people. There are convenient restaurants and cafes throughout the mall that are popular with travelling passengers.  
Also, don't forget that HarbourFront Centre is directly west of VivoCity Mall. VivoCity is Singapore's largest mall, and it is loaded with stores and eateries. 
More Itinerary Ideas
You can walk from HarbourFront Centre to the Sentosa Express train station within VivoCity if you want to go to Sentosa Island. Alternatively, you can walk from HarbourFront Centre to the Sentosa Cable Car station. We enjoyed the scenic views as we took the cable car over to the island! 
Sentosa Island is jam-packed with exhibiting activities. Universal Studios and the southern beaches (Siloso, Tanjong and Palawan) are very popular places. Some people visit Sentosa Island for 3-4 days and still don't manage to experience everything it has to offer! 
Read More: Singapore Itinerary Guide – How to create the best itinerary? 
If you have any questions about how to get to HarbourFrontSingapore Centre by MRT, please send us an email or comment below. We would be delighted to help you in any way possible!