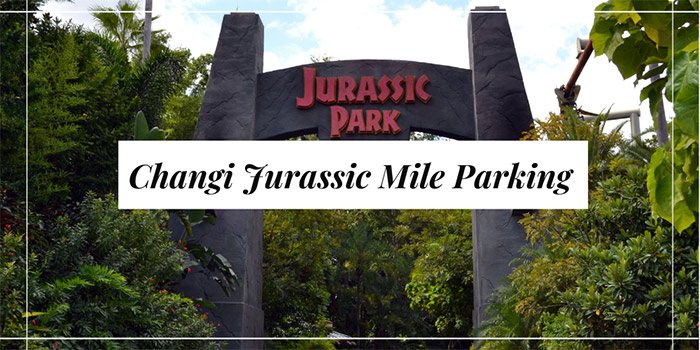 Learn exactly where you should park to access Changi Jurassic Mile.
Where should you park when visiting Changi Jurassic Mile?
There are a few Changi Jurassic Mile parking options that are available to guests. And if you are not familiar, the Jurassic Mile is a super cool place to visit in Singapore because it features 20 different prehistoric dinosaurs spanning approximately 1 km. It has become popular amongst Singaporeans and foreign visitors and mainly attracts families with children, exercise enthusiasts and nature lovers.
Changi Jurassic Mile is adjacent to the meticulously maintained Tanah Merah Country Country (Golf) Club and helps to connect East Coast Park with Changi Airport. 
It is southeast of Changi Airport, meaning you can only park at specific locations if you want to visit Changi Jurassic Mile.
In the section below, we will summarize two parking options for the Jurassic Mile and then you can choose the one that suits you best.
---
Changi Jurassic Mile Parking –

Option 1
The closest parking space for visitors to Changi Jurassic Mile is Car Park 4A which is located south of Changi Terminal 4. 
Car Park 4A is an official parking space for Terminal 4, and it just happens to be quite close to the entrance point for Changi Jurassic Mile. 
After you park your vehicle at Car Park 4A, you can easily walk to Changi Jurassic Mile by walking south along T4 Arrival Drive. 
Follow the signs, and you should have no problem getting there. 
Walking Distance and Time: 950 m (8-11 minutes)
---
Changi Jurassic Mile Parking –

Option 2
If you would prefer not to park at Car Park 4A, you can park closer to Terminal 2.
Drive to the HUB & SPOKE Car Park at Changi Terminal 2.
In case you are wondering, HUB & SPOKE is a popular restaurant. And it's also a popular spot for people to rent a bicycle. You can rent one from the HUB & SPOKE pit stop which is beside the Car Park.  
Since this parking lot is further north in comparison to Car Park 4A, you can expect a long walk or bike ride to Changi Jurassic Mile. 
Walking Distance and Time: 2.7 km (approximately 30 minutes)
Since the walking time from the HUB & SPOKE Car Park to the Jurassic Mile is around 30 minutes, you might be better off cycling from here. 
---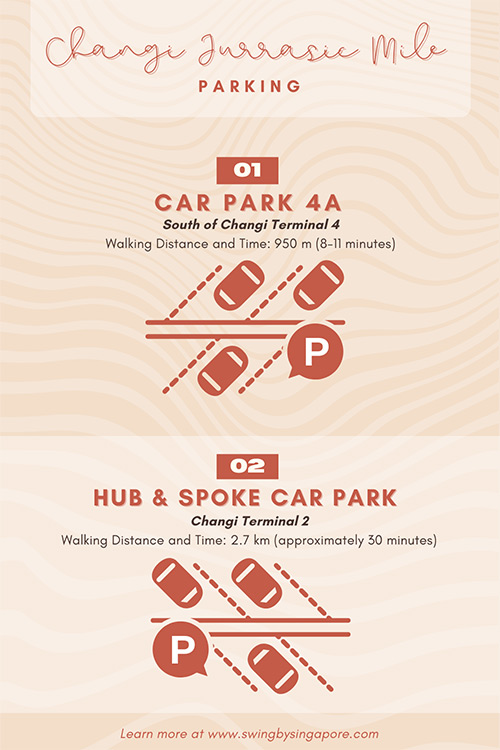 ---
Best Hotels near the Mile
 Some of Singapore's airport hotels are the most convenient for accessing the Jurassic Mile and other attractions in this area. 
 Crowne Plaza Changi Airport
 YOTELAIR Singapore Changi
 Aerotel Singapore
 Alternatively, if you want to be closer to Singapore Expo (in the vicinity of Expo Station), consider staying at:
 Capri by Fraser Changi City
 Park Avenue Changi Hotel
 You can also walk directly to Changi City Point Mall from these hotels.