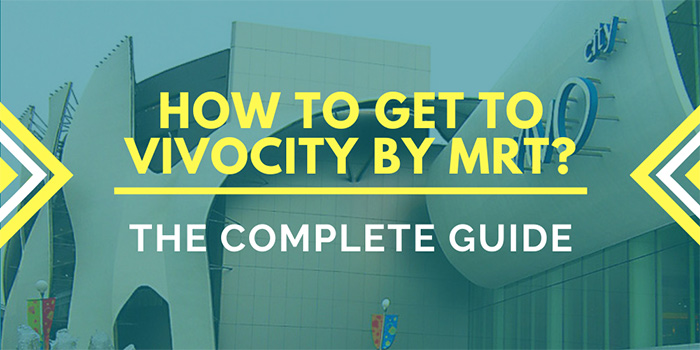 Welcome to the complete step-by-step guide on how to get to VivoCity by MRT.  We have been to VivoCity Mall on multiple occasions to shop and transfer to Sentosa Island. Therefore, our goal to provide you with an extremely detailed summary of how to get there stress-free!
One of the coolest things about travelling in Singapore is that you can check out most of the major attractions and visit the best shopping malls by using MRT. This eliminates the need to pay unnecessary fees for taxis and private vehicles. Similarly, on your way to VivoCity you will avoid traffic jams and help save the environment from unnecessary emissions.
---
Why should you visit VivoCity in Singapore?
VivoCity is a is the largest shopping mall in Singapore. It is located at HarbourFront Walk and is largely considered to be one of the best shopping malls in Singapore. According to VivoCity's official website it is an "iconic retail, entertainment & lifestyle destination that constantly surprises and stimulates visitors with its vibrant mix of retail and entertainment concepts." 
You can experience some beautiful open spaces at VivoCity along the waterfront. This is one of the selling points of this mall in comparison to many others in Singapore. It has a 300 m promenade area that is ideal for dining and a large roof-top amphitheatre. 
VivoCity is also popular because this is where you go to get tickets for Sentosa Island's express monorail train.
Over the years, VivoCity has also one numerous awards including the BCA Green Mark Platinum Award. This recognizes the work towards a more sustainable and friendly environment for shoppers. It has also has been recognized by various travel authorities such as TripAdvisor for great traveller reviews and continual superior customer experience over the years.
We will now outline how to get to VivoCity below!
---
Getting to VivoCity using MRT 
Step 1: Walk from your hotel or apartment to the nearest MRT Station.
The first step in using the MRT to get to VivoCity is to make sure that you are staying in a convenient spot.  Preferably, book a room at a hotel that is within one or two minutes of an MRT station.
This will help you to save some cash and also speed up getting to and from the station during your time in the city. 
We have included a few examples of hotels that are only a one minute walk away from their respective stations. We've included the closest station to each one to help you check their location.
Fairmont Singapore

(8.9/10 Review Score) (

Esplanade Station

)

The Capitol Kempinski Hotel Singapore

(9.3/10 Review Score) (

City Hall Station

)
Obviously, the two properties above are just a few examples to get you started with your search. There are also a lot of convenient properties in Chinatown that are only one or two minutes from Chinatown MRT Station. This area is a bit cheaper if you are on a strict budget while you are visiting Singapore.
---
Step 2: Get an MRT Ticket to HarbourFront Station
The next step in getting to VivoCity using the MRT is buying either a ticket or card for your trip.
Although Singaporeans probably have a card for the MRT already, we will also outline the different options available for guests to the city.
At the time of writing there are three different options for riding the MRT in Singapore:
Buying a single journey trip ticket using a ticketing machine

Buying and loading up a stored value card 

Purchasing a Singapore Tourist Pass
If you require additional information about the pros and cons of single journey tickets, stored value cards, and Singapore tourist passes please read this comprehensive guide. 
To summarize these quickly, if you are only taking a few trips on the MRT in Singapore then single journey tickets are probably the best option. Stored value cards such as the EZink card are the most popular option for long-term residents of Singapore. Singapore Tourist Passes are ideal if you plan on sightseeing a lot over a short period of time (usually 1-3 days)
Once you have decided what kind of ticket you are going to use, you will have to purchase a ticket to HarbourFront Station.
 This is by far the most practical station to reach VivoCity Mall by MRT.
---
Step 3: Take the MRT to HarbourFront Station
It is good to have some familiarity with the lines that service trains to HarbourFront Station.
HarbourFront Station is located on two different lines:
 North East Line (represented in purple colour on the train map)
Circle Line (shown in gold colour on the train map)
It is very likely that you will be travelling along the North East Line from the downtown area to reach VivoCity.
The MRT in Singapore has two different ways that you can tell what the next station is on a given line.  Firstly, there are verbal announcements that are made to inform you of the next station. Second, you can look at the signs above the exit doors.
You will stop at Outram Park Station before HarbourFront.  Once you stop here make sure that you get close to the exit so that you can easily alight at the next stop.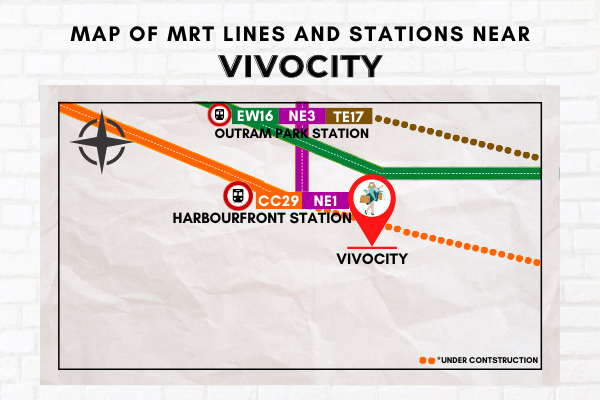 ---
Step 4: Exit HarbourFront and walk to VivoCity Mall.
Conveniently, you can easily walk directly from HarbourFront Station to VivoCity Mall.  
Harbourfront Station has a total of five exits (A, B, C, D and E). 
To get to VicoCity Mall from the station take Exit E. This is the most common exit that visitors take. 
Underground Exit E leads directly to basement 2 of the VivoCity shopping mall. Once you are in the mall feel free to eat, shop or access the Sentosa Express Monorail ticketing office.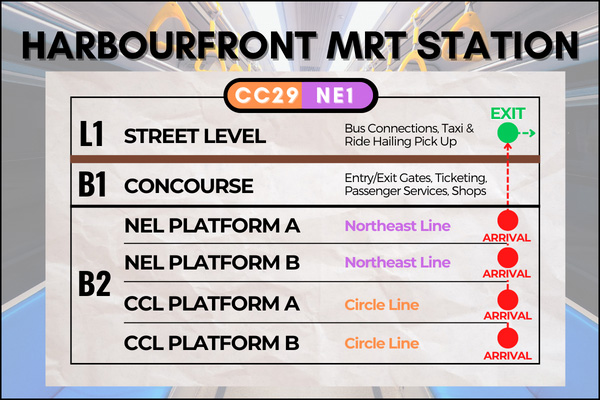 How long should it take you to walk from HarbourFront MRT Station to VivoCity Singapore?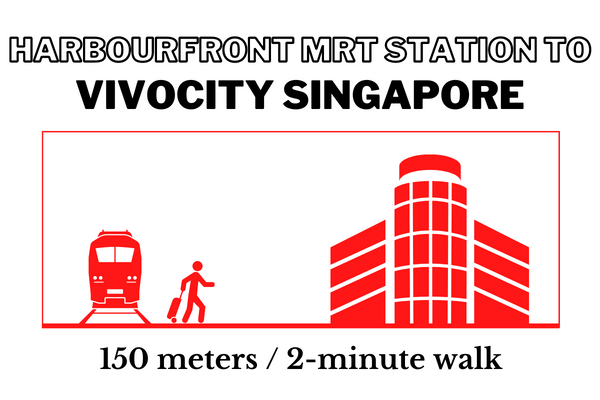 ---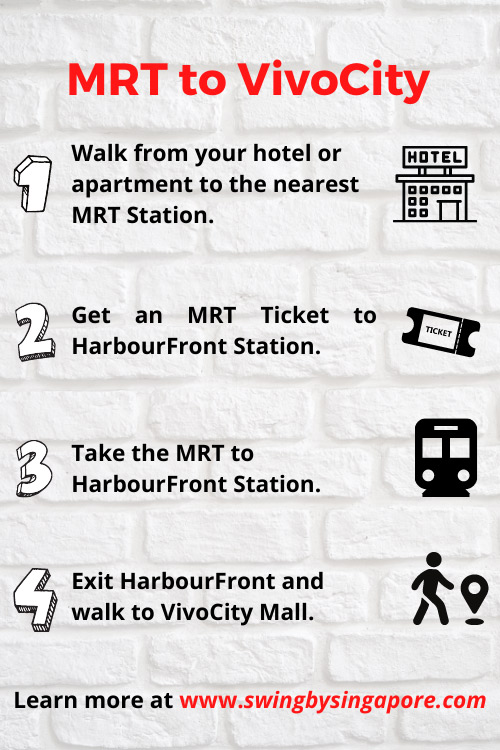 ---
Should you stay near VivoCity?
If you're planning on shopping or dining at VivoCity Mall in Singapore then you have to think about whether or not you want to actually stay near this mall. 
Unfortunately, there is only one hotel that is within the direct vicinity of VivoCity:
Travelodge Harbourfront Singapore (4-star, 8.0/10 review score)
This is a mid-range property that is quite affordable in comparison to other four-star hotels in the downtown area.  As you can see by its review score most guests consider it to be a good place to stay.
Another option if you want to be close to VivoCity is actually staying on Sentosa Island. This is a short train ride from the mall. This is one of the most popular places for tourists to visit while they are in the city. It only takes a few minutes to get over to the island and once you're there you will have no shortage of things to see and do.
Great places to stay on Sentosa
If you are planning on staying on Sentosa island we included some suggestions below. These are some of the highest-rated properties based on verified guest review scores that the time of writing.
Capella Singapore

(5-star, rated 9/10)

Capella The Club Residences Singapore

(5-star, rated 8.8/10)

The Outpost Hotel Sentosa by Far East Hospitality

(5-star, rated 8.9/10)

W Singapore – Sentosa Cove

(5-star, rated 8.7/10)
We have not stayed at these specific properties and we do not have a direct partnership with them.  however, according to their very high review scores is safe to say that they are well-managed properties. 
---
Any more questions about your trip to VivoCity using MRT?
We truly hope that this step-by-step guide on how to get to VivoCity by MRT has been descriptive enough for you.  If for some reason you do require more information please don't hesitate to send this email. We would be happy to provide you with more insight.
One of the cool things about VivoCity in Singapore is that it is technically the jumping point for accessing Sentosa Island. If you are travelling with the family to Singapore then this is a must-see. 
It not only has Universal Studios and Resorts World but it has scenic beaches and other top-notch attractions.  You can easily make a 2 or 3-day itinerary on Sentosa island alone.  This is not even considering the other attractions in Chinatown and other popular areas of the city. 
The Waterfront area your VivoCity is a great place to walk around to get some fresh air. We suggest trying a few restaurants that while you are there!